Business
Blue Tin Ranch grows agritourism business on an old family farm – Agweek
How can a farm family afford to stay on the farm without a next generation interested in farming? Or, in a different situation, how can a farm increase income with another business or revenue stream on an existing farm or ranch? With a solid business plan, hard work and enthusiasm, agritourism can be an option to stay on a farm and create added income, all while providing others a connection to agriculture.
Noreen Jorgensen and her daughter Kelley own and operate Blue Tin Ranch on their family farm in Burbank, South Dakota, along the Missouri River between Elk Point and Vermillion. The added income from Blue Tin Ranch "is vital to help pay for the family health plan, property taxes and utilities," Noreen said. I met Noreen while presenting to the
South Dakota State University AgritourismSD class
when
they visited Fargo, North Dakota
.
The Jorgensen family farming roots go back to before South Dakota was even a state. The family's ancestors emigrated from Denmark in the 1880s and began farming in the Yankton area in the 1910s. They lost much of what they had built in the Depression, Noreen said.
"But they persevered and built back, until in 1950, the Army Corp of Engineers decided to build Gavin Point Dam right on Jorgensen land," she said. "The government bought out the farm, and the proceeds were used to purchase 640 acres of land in Union County, South Dakota."
The farmland is now rented out but the farm recently experienced "new life" over the past two years, with an idea that evolved and grew over many years, Noreen shared with me. The Jorgensens had built a basketball court and an indoor swimming pool area so their then-middle- and high school-aged kids had a place to hang out with friends. Friends had suggested they rent it out for parties and events, but Noreen felt she was too busy then raising kids to take on a project.
Daughter Kelley, an SDSU graduate with a degree in international affairs, brought the idea back up in 2019 to Noreen, and the mother-daughter duo moved forward. With a loan from a regional bank, Blue Tin Ranch began, first by converting the existing facilities on the farm.
"Blue Tin Ranch was the obvious choice for the name since every building has a blue tin roof," Noreen explained.
They converted the indoor swimming pool to a two-bedroom guest house/hunting lodge, turned the basketball court into a pavilion by adding a roof. They cleaned the 1909 barn and removed a portion of the haymow, "to have the beautiful turn of the century architecture on full display," Noreen said. The machine shed can hold large gatherings, and a loft above it serves as a lounge for hunters to hang out.
Noreen shared five challenges Blue Tin Ranch has had to overcome:
"Inviting the public onto your land is inherent with all kinds of risks. Farm kids know how to climb over a barbed wire fence but kids from the city are shocked when the fence fights back!"
"Kids who grew up on a farm or ranch know the dangers of tractors and big equipment, livestock and wildlife. Keeping the visitor safe from harm is a huge part of the day-to-day operation."
"Finding an insurance company who can write a policy tailor-made to an agritourism business is not easy."
"Going in to talk to the banker who has only written agriculture loans and asking them to help fund a flower farm or a pumpkin patch is also a challenge."
"A big hurdle for Blue Tin Ranch has been the county government and zoning issues. They have difficulty making the connection of ag land and agritourism."
But she said the negatives don't compare to "the positive reactions on the faces of kids as they pile out of the car and run for the first time on an open field, pet a calf and ride a horse."
AgritourismSD coordinator Stacy Hadrick said the class was started to help people use agriculture resources in different ways.
"Noreen is a perfect example of taking the facilities they had on the farm and using it to run a new business that has the next generation interested," Hadrick said.
Through the AgritourismSD class, Noreen learned younger travelers are more interested in spending time and money on experiences.
"On the farm they can gather chicken eggs, see how cows are milked today, learn about the different crops planted or just enjoy the wide-open spaces," she said.
Agritourism can include farm stays, you-pick flowers and vegetables, festivals and events. Noreen said Blue Tin Ranch is considered a farm stay, with its guest house and a renovated chicken coop as a "glamping spot." A grain bin soon will be completed as another guest spot.
But Blue Tin Ranch also hosts events. Kelley has organized a summer series called "Sunsets, Stargazing, S'mores and More!" She will have a watercolor painting class, a tour of the farm describing the various crops, flowers and weeds, and a night of stargazing. Noreen will give a talk on the agritourism class she is taking.
By fall, the farm transforms from Blue Tin Ranch to "BOO" Tin Ranch with a pumpkin patch, hayrides and a barrel train. Throughout the year they host graduation parties, reunions, weddings and stop-over guests on their way to Mount Rushmore or Yellowstone National Park.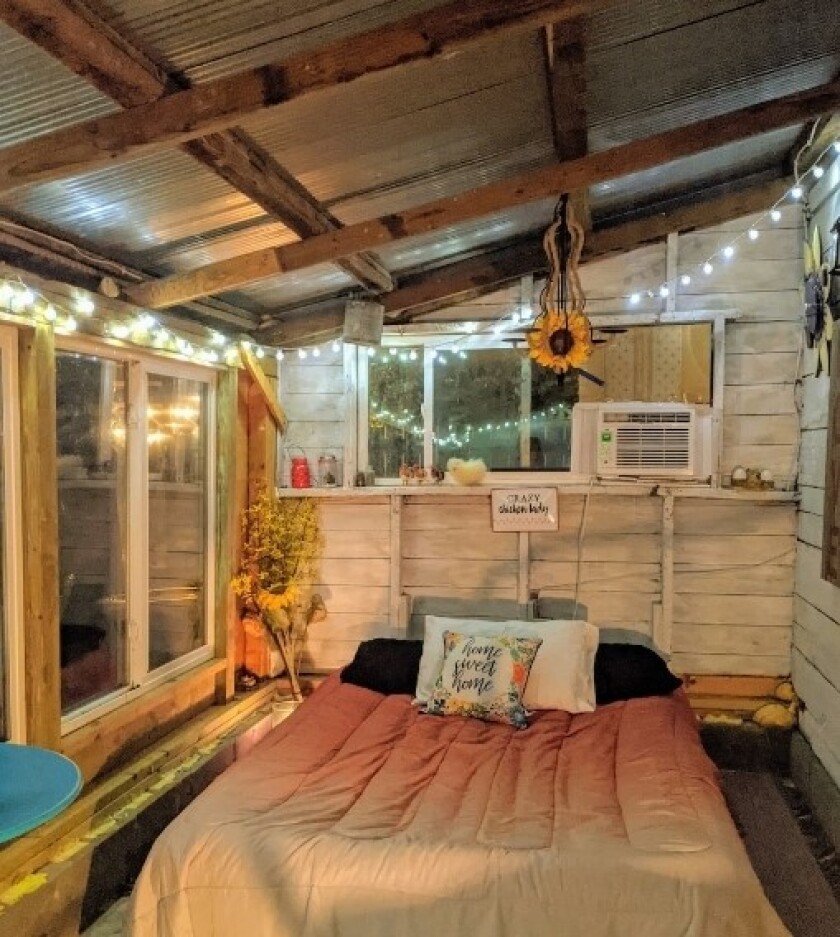 Blue Tin Ranch sees guests from Iowa or Nebraska — both just 15 miles away — as well as Minnesota, Illinois, Kansas or Missouri. Guests use an online booking platform. Many of their 2021 hunting guests already have booked 2022 stays.
Noreen and Kelley both work in their local school district in the winter months. Blue Tin Ranch is now their full-time role from spring through fall, providing new purpose on a historic family farm and revitalizing old farm buildings while offsetting expenses with income generated.
Pinke is the publisher and general manager of Agweek. She can be reached at kpinke@agweek.com, or connect with her on Twitter @katpinke.
window.fbAsyncInit = function() { FB.init({
appId : '343871750633427',
xfbml : true, version : 'v2.9' }); };
(function(d, s, id){ var js, fjs = d.getElementsByTagName(s)[0]; if (d.getElementById(id)) {return;} js = d.createElement(s); js.id = id; js.src = "https://connect.facebook.net/en_US/sdk.js"; fjs.parentNode.insertBefore(js, fjs); }(document, 'script', 'facebook-jssdk'));