Business
Calhoun floral and tuxedo rental business eyes third year anniversary | Features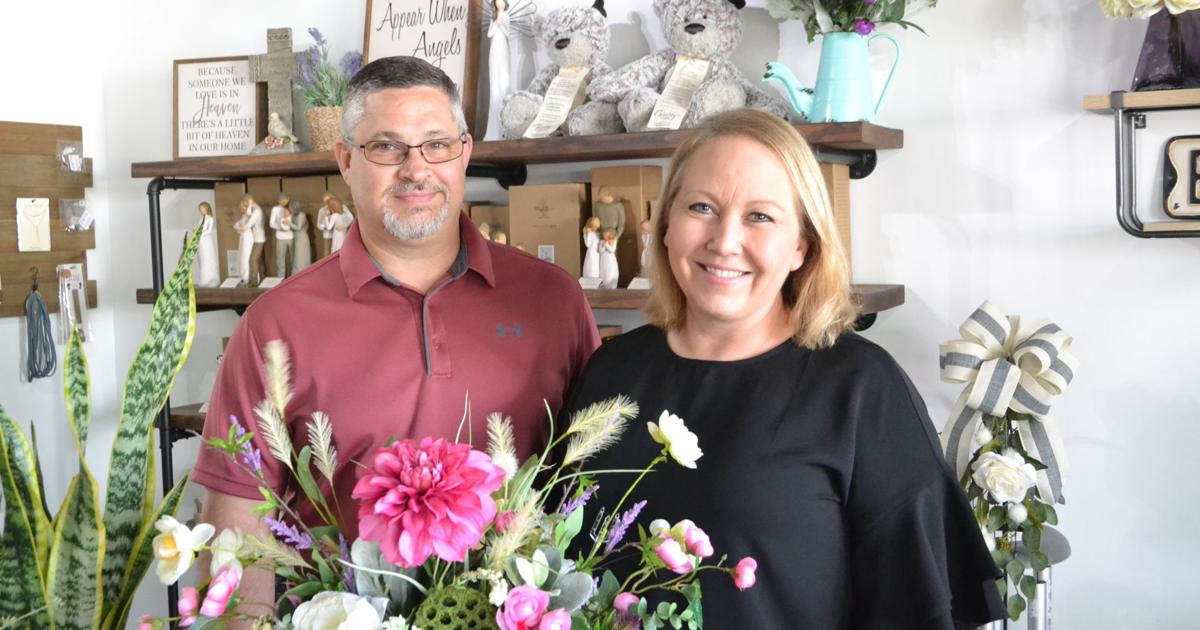 The Greenery Floral and Tuxedo Rental in Calhoun will be approaching its third year in business come August.
Before officially opening up to the public in 2019, co-owner Yvette Nelson had experience working in sales as an advertising manager and as an operations manager for a consulting firm.
When Yvette Nelson's daughter gave birth to her granddaughter, who has special needs, Yvette Nelson decided to stay home with them for a year before deciding to pivot to a new career field.
"I went to design school to learn the basics," Yvette Nelson said. "I've always done crafts and home designs myself but I did go to design school to learn the floral basics. So, I'm basically self-taught — I have not worked under anyone. I just kind of embarked on this adventure out of just a desire."
The store, which is housed in the former McLean County News office building on East Second Street, offers a hybrid of selling floral arrangements, bereavement and memorial gifts and also having a tuxedo renting service, with the latter being inspired by Yvette Nelson's sister having her own wedding and formal shop in Princeton.
"She's been in business for over 30 years so I've always been familiar with formal wear," Yvette Nelson said. "…But I felt like the tuxedo rentals would be a good avenue for our local community to come here and very complimentary (to our store)."
Yvette Nelson said that the store has been heavy and specialized with bereavement services, which she takes time to ask questions to clients about their loved ones.
"…I enjoy being able to help them say that last goodbye," Yvette Nelson said.
The store also has suits that are available for purchase, which is something that Yvette Nelson said she plans on expanding in the future.
Less than one year after the store opened, the coronavirus pandemic took a toll on many businesses nationwide.
However, Yvette Nelson said that The Greenery, along with other florists, were able to operate as they were considered essential businesses and were able to navigate through COVID without much issue.
"It didn't impact me. What I was able to do was that I had families that weren't able to go visit their elderly parents …. I was able to create a bouquet design and deliver it to their family and we did contactless delivery," Yvette Nelson said.
The store has also been a team effort from the start, with Yvette Nelson's husband Chris Nelson helping out with the renovations, coming in to help with boutonnieres for prom season and even assisting with weddings and funerals as needed.
Yvette Nelson appreciates her new career path because she is able to be creative and bring her customers' ideas to life. "I enjoy whenever I meet with my clients or if they call me (and) being able to take what they envision, and I love the feedback whenever they're like, 'Oh my gosh, this was better than what I could have ever imagined,' " Yvette Nelson said. "I just really enjoy being able to help them give a gift item to their family that they'll appreciate. Nobody frowns when I deliver flowers. It's the best job in the world …."
She also finds enjoyment throughout the entire process.
"It's very fulfilling. It's a lot of satisfaction about taking what God has provided us and being able to design something beautiful that will brighten somebody's day," Yvette Nelson said.
However, there is a lot of work that occurs behind-the-scenes such as making sure to have the proper hardgoods on display, having a variety of flowers on hand and working beyond the allotted business hours, sometimes 18 to 20 hours a day.
"One of the things that people take for granted is that you don't plan a death. They always seem to happen on a weekend … so she has to come in and work when people need the product," Chris Nelson said. "She works a lot of weekends. She's doing what she needs to do to get through the day and a lot of times, funerals don't get designed until night time — so a lot of long, long nights down here designing for a 9 o'clock service the next day."
However, Yvette Nelson doesn't bat an eye.
"When you say there's a lot that goes into it — I don't know," Yvette Nelson said. "I don't look at it as work. I enjoy it."
With the business approaching its third year milestone, Yvette Nelson is happy how far she's come and how the business has continued to flourish and giving back to the community any way it can.
"I really didn't have a goal set out. There's always that three-year mark — some people make it to three years and some people don't," Yvette Nelson said. "…My goal (was) to make sure that I grew my business and understand what my customers' needs were, and that's kind of where I am."
For more information, visit facebook.com/TheGreeneryFloralAndTuxedoRental or call 270-499-5056.