Business
Is Utah the most small-business-friendly state? Voting records indicate it could be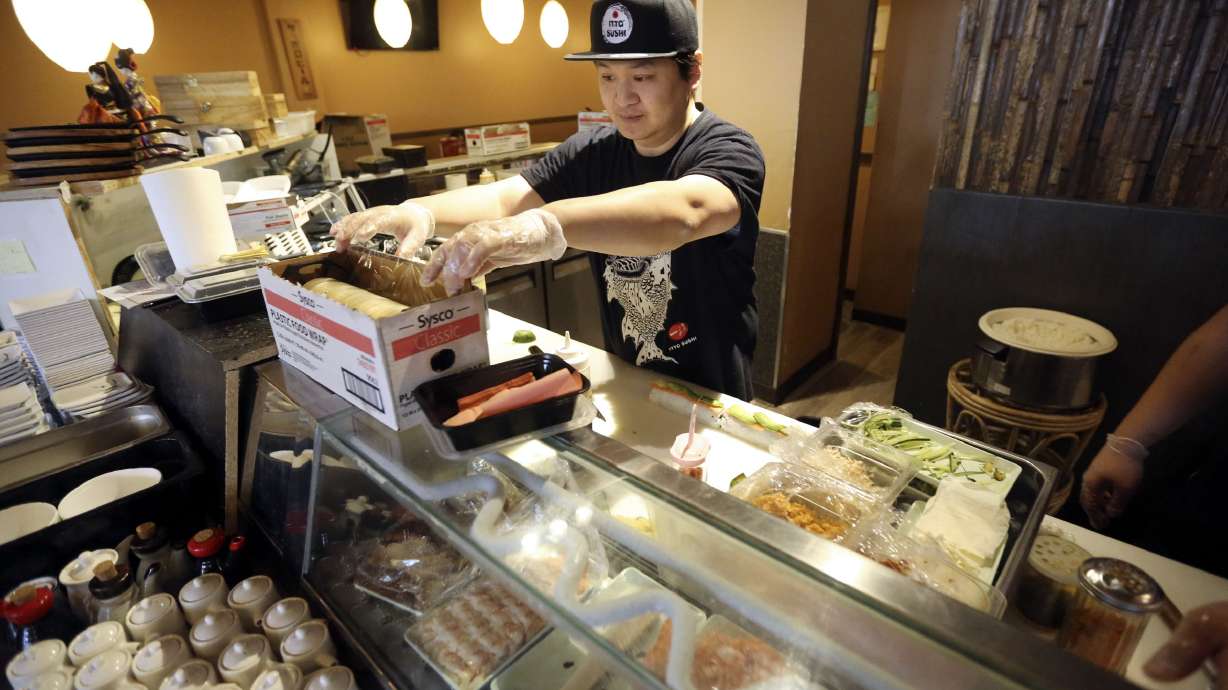 Yong Itto, owner of Itto Sushi in Midvale, prepares sushi for a to-go order on March 25, 2020. The Utah branch of the National Federation for Independent Business last week released the voting records of state lawmakers' votes on seven issues of small-business importance taken during the 2021-2022 session of the Utah Legislature, which indicate that Utah could be the most small-business-friendly state in the nation. (Kristin Murphy, Deseret News)
Estimated read time: 3-4 minutes
SALT LAKE CITY — Silicon Slopes draws most of the fanfare and headlines, but the Beehive State is also home to a bustling small-business scene that is boosted through pieces of legislation designed to prop up small businesses.
This notion was supported when the Utah branch of the National Federation for Independent Business last week released the voting records of state lawmakers' votes on seven issues of small-business importance taken during the 2021-2022 session of the Utah Legislature.
"The story I think our voting record tells is that Utah is, by and large, a very small-business-friendly state and we want people to know that," said Casey Hill, Utah state director for the National Federation of Independent Business.
Hill said that 14 senators and 36 representatives scored perfect, 100% voting records.
"That means that of the seven bills that we included in our voting tracker, that they voted 100%, seven for seven on those bills," Hill said, adding that there were numerous additional politicians who were six out of seven or didn't qualify on the scorecard because they were unable to vote.
Having a legislature that is made up of people who are "not professional politicians, but people who pass laws and then have to go back to their district and live with the laws that they passed," is a big reason why Utah is such a small-business friendly state, Hill said.
"When 74% of (the) entire legislature has pro-small-business voting records of 80% or above, I believe any other state would be hard-pressed to match or beat that," Hill said.
He added that many of the individuals passing laws are either small-business owners themselves, or have been involved with small businesses in some capacity and on a personal level.
"They understand the challenges that a small-business owner faces," Hil said.
Another nine senators and 18 representatives racked up voting records in the 80th percentile while the lowest Senate score was 71% and the lowest House score was 43%.
"Overall, our state is very supportive of small business and has done a lot to try and reduce taxes, reduce regulatory burden and promote growth in business in Utah," Hill said. "You see that reflected in our state's economy … we came back from the pandemic faster than most states and we came back stronger than most states."
This has led to problems that come as a result of a thriving business landscape and one that Utahns are far too familiar with as of late: Growth.
"The growth and the needs that are created because of growth through infrastructure and some of the labor challenges we face, these are all really positive problems that we have and they're reflective of a legislature that, over the last many years, has made some very good decisions," Hill said.
Still, a growing population that is a challenge for counties, cities and towns in Utah is also a challenge for small businesses.
An ever-growing population can also bring other problems out of the woodwork. For Utah, that looks like an increasing cost of living and an uber-competitive housing market.
"One of the challenges that small business owners face … they want to create a job and they want to grow and they want to move their business to the next level but finding someone who can afford to live in the area where their business is located can be a significant challenge," Hill said.
Finding ways to lower the cost of housing will be crucial to increasing the success of small businesses in Utah, he said.
"Those individuals that want to work for (small businesses), make sure that they have the ability to afford to live in our state," Hill said.
×
Related stories
More stories you may be interested in