Business
Trump invokes Fifth Amendment in N.Y. AG's civil probe of his business practices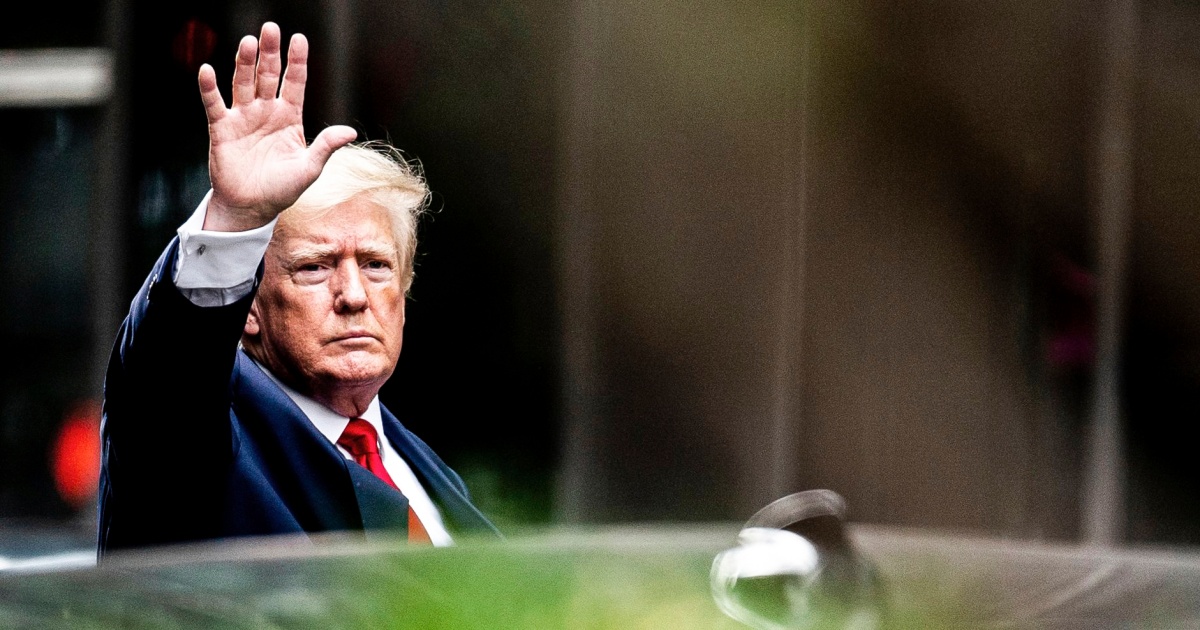 Former President Donald Trump invoked his Fifth Amendment right against self-incrimination Wednesday during a deposition before lawyers from New York Attorney General Letitia James' office in its probe into the Trump Organization's business practices.
The deposition lasted four hours, and the only question the former president answered was about his name, Trump attorney Ron Fischetti told NBC News.
"I once asked, 'If you're innocent, why are you taking the Fifth Amendment?'" Trump said in a statement. "Now I know the answer to that question. When your family, your company, and all the people in your orbit have become the targets of an unfounded, politically motivated Witch Hunt supported by lawyers, prosecutors, and the Fake News Media, you have no choice. Accordingly, under the advice of my counsel and for all of the above reasons, I declined to answer the questions under the rights and privileges afforded to every citizen under the United States Constitution."
A spokesperson for the attorney general's office later confirmed Trump had invoked the Fifth Amendment.
"While we will not comment on specific details, we can confirm that today, our office conducted a deposition of former president Donald Trump," the spokesperson said in a statement. "Attorney General Letitia James took part in the deposition during which Mr. Trump invoked his Fifth Amendment right against self-incrimination."
Fischetti, who attended the deposition along with fellow Trump attorney Alina Habba, said Kevin Wallace of the New York Attorney General's Office conducted all of the questioning and that James was there for about two hours.
James' office is considering whether to file a civil suit against Trump and his company and has said in court filings that it has "uncovered substantial evidence establishing numerous misrepresentations" in Trump's financial statements to banks, insurers and the IRS.
The financial statements were inflated by hundreds of millions of dollars and signed off on by the former president, James has alleged.
Trump was asked Wednesday about the valuations of various items and golf clubs, signing documents, mortgages, loans and the size of his apartment, Fischetti said, noting he took the fifth on every question.
Trump has denied any wrongdoing in the probe and has claimed that the investigation by James, a Democrat, is politically motivated.
According to Fischetti, the former president also read a statement where he called the investigation "the greatest witch hunt in the history of our country" and accused James of "openly campaigning on a policy of destroying me."
Much of Fischetti's account was reported by The New York Times earlier Wednesday.
In an earlier statement on his social media platform, Trump said he was in New York City and would see the attorney general "for a continuation of the greatest Witch Hunt in U.S. history! My great company, and myself, are being attacked from all sides. Banana Republic!"
On his social media platform, Trump later described the deposition as "a very professional meeting."
Trump's two eldest children, Donald Trump Jr. and Ivanka Trump, recently testified in the civil probe. NBC News reported Trump Jr. was interviewed a couple of weeks ago and Ivanka spoke to investigators last week. Neither of them invoked the Fifth Amendment's protection. Sources did not confirm whether their testimony took place in person or virtually.
Earlier this week, Cushman & Wakefield, a commercial real estate firm that appraised several Trump Organization properties, handed over nearly 36,000 documents to the attorney general.
"Attorney General James will pursue the facts and the law wherever they may lead. Our investigation continues," the spokesperson for her office said Wednesday.
Trump's appearance the attorney general's office comes in the wake of the FBI searching Trump's home at Mar-a-Lago in Florida, with a source familiar with the matter telling NBC News that the search was tied to classified information Trump allegedly took with him from the White House to his Palm Beach resort in January 2021.
Zoë Richards contributed.