Business
Welcome back, Jay: Business owners introduced to new Stonington police chief | Stonington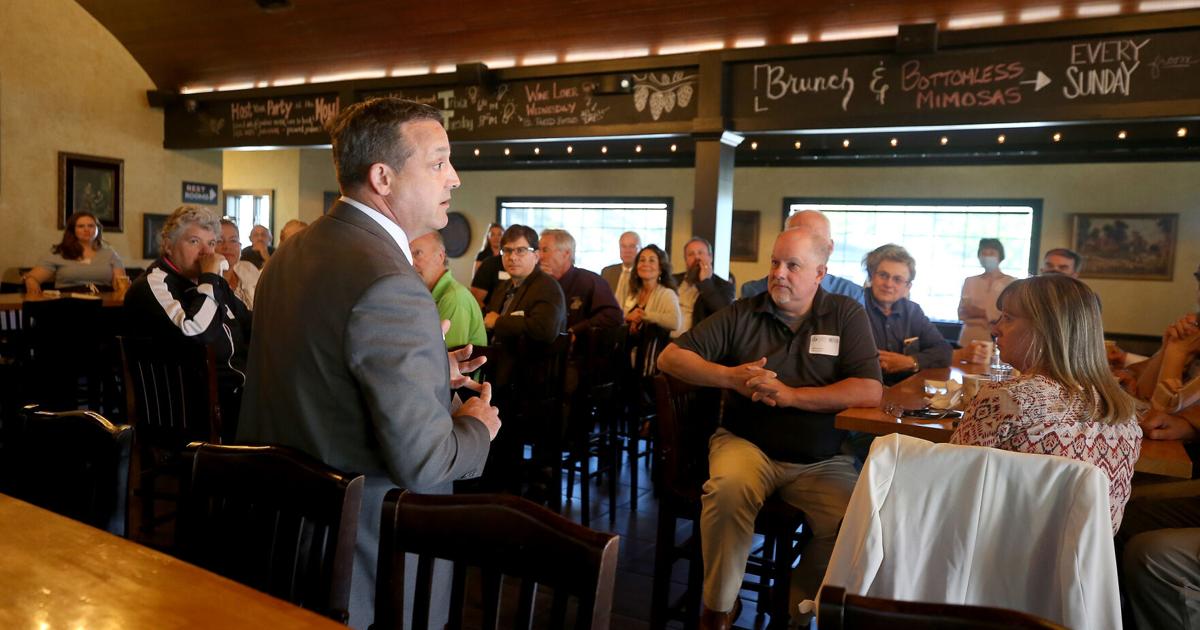 STONINGTON — When Police Chief Jay DelGrosso began a career in law enforcement over three decades ago, starting as a reserve officer working part-time while attending Southern Connecticut State University, he instantly fell in love with the Stonington community.
DelGrosso still recalls walking the beat in areas including Stonington Borough while serving in between work and school, checking the doors of businesses and even calling the owners on a few nights when, in a hurry to return to their families after a long day of work, the businesses were left unlocked.
"The owners would come down and we'd end up chatting for a while. It was a different time, but it is something I will always remember," DelGrosso told a capacity crowd at the Jealous Monk in Olde Mistick Village on Wednesday morning.
"Those are the types of things that attracted me to the community years ago," he said. "It is why I have raised my family here and it is why Stonington was the only department that I would have left the state police to join."
Those experiences are some of the things that DelGrosso hopes to draw on as he serves as the community's top cop, and he said that as he continues to learn the ins and outs of the department, he and his officers are focused on a "return to normal" that will restore and build upon many of the pre-pandemic partnerships with schools and businesses in the community.
The Wednesday morning program, hosted by the Ocean Community Chamber of Commerce and Greater Mystic Chamber of Commerce, offered business owners throughout the community an opportunity to meet the chief in person and hear from him where he came from and what he hopes to achieve.
Ocean Community Chamber of Commerce President Lisa Konicki said the event was designed to provide an opportunity for the general public to meet the individual that will oversee law enforcement and emergency response moving forward. The chamber will host a similar luncheon on May 25 at Hilltop Cafe in Westerly to introduce new Westerly Police Chief Paul Gingerella, who was hired around the same time as DelGrosso after the former chief, Shawn Lacey, was named town manager.
"These programs are a way for the community to give these leaders a warm welcome, and it opens a line of communication right away that helps to build important connections and partnerships," Konicki said.
For DelGrosso, community partnerships will be a top priority in his tenure as chief and he said he is already working with numerous members of the community on a variety of issues, including traffic safety, speeding in residential areas, pollution and possible drug use in Donahue Park along the Pawcatuck River.
Many residents and businesses are adjusting back to a more pre-pandemic way of life, with social gatherings and events returning with a full schedule. While he said local officers continued to work hard and monitor their beats during the pandemic — DelGrosso praised Stonington police for maintaining professional standards and services even when challenged by pandemic safety parameters in a tense social and political climate — he said there is a natural "restart" process for officers too that will involve being visible at events and available to interact with the general public.
"I am fortunate to be able to enter a department with a strong professional reputation that is staffed by men and women who want to be here, who believe this is a beautiful community and want to be partners in making it even better," DelGrosso said.
At 51 years old, DelGrosso still has plenty of time left in his career and he said he is excited to finish it off in Stonington, a community he has called home since he graduated college and first came on the force full-time in 1993.
DelGrosso has experienced all parts of town, living at times in Pawcatuck and Stonington Borough before settling down in Mystic over the past decade. He and his wife have three children.
A six-year member of the Stonington Police Department, DelGrosso served in capacities including as a school resource officer and detective before he was hired in 1999 to join the Connecticut State Police.
While working for state police, he was promoted to sergeant after nine years, and in 2015, after skipping past the rank of captain, he was named a lieutenant. He would go on to serve as chief of staff under Commissioner James Rovella, and in 2020 he was promoted to major following that assignment. DelGrosso has also previously served as commanding officer at the Troop E barracks in Montville, commanding officer of the Eastern District Major Crime Squad and commander of the State Police Eastern District.
Now, 22 years later, DelGrosso said he has come home.
"It's interesting, my first day I heard some of the codes over the scanner and it brought me back to the days I was working there," he said. "Some things were different, but in other ways, it was like I never left."