Crypto
NYC Times Square goes dark for green crypto stunt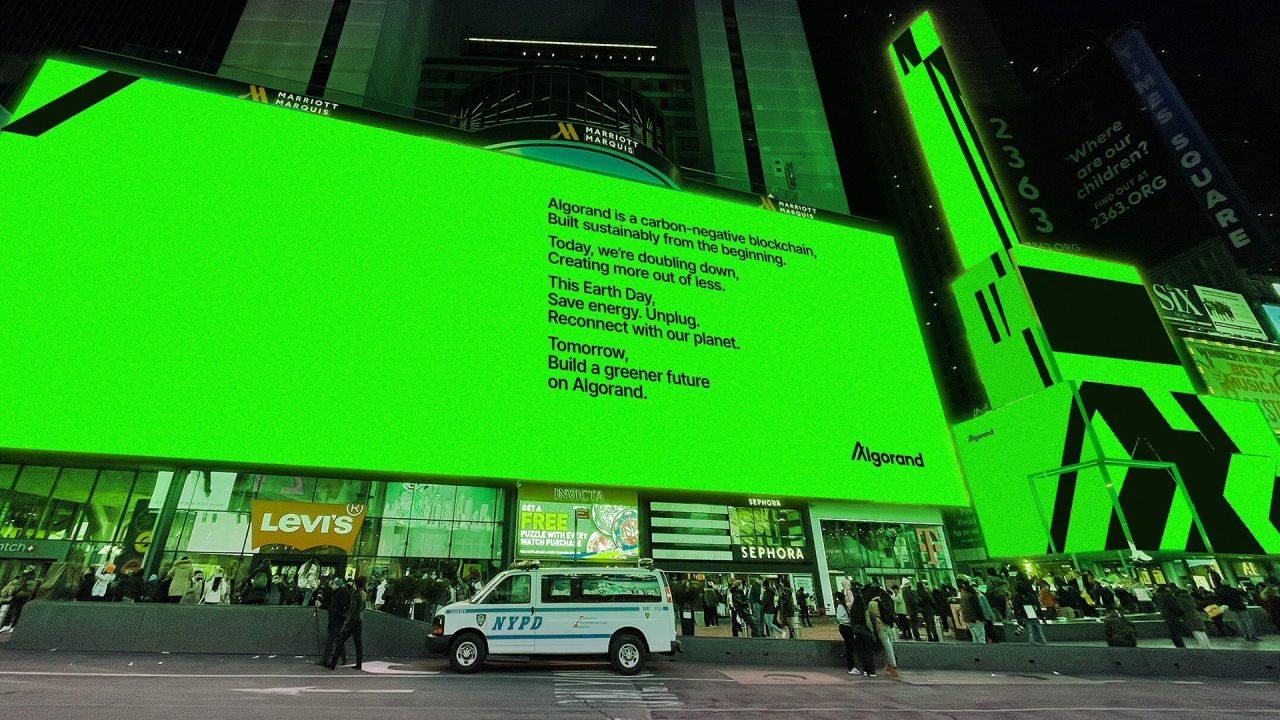 Cryptocurrency's impact on the environment—particularly the carbon-guzzling nature of Bitcoin mining—has been a lightning rod as blockchains grow into the mainstream.
Earth Day might be the perfect time to illuminate the issue once again—or, in this case, de-illuminate it. Algorand, a first-of-its-kind carbon-negative blockchain protocol, is doing just that by blacking out New York's Times Square to conserve power and bring a showdown in energy costs to some competing protocols.
Darkening all the flickering billboards and flashing lights for one hour—from 8 to 9 p.m. ET today—will save roughly 23.4 billion joules of energy. But the same amount of energy that powers the square's hustle and bustle for 60 minutes would power only 1.5 seconds of Bitcoin network operation, and just six monetary transactions recorded on Bitcoin's blockchain ledger, according to the Algorand Foundation (the group behind the protocol).
However, it could power 350 million transactions recorded on Algorand's ledger and two weeks' worth of network liveliness, the group says.
That's because Algorand utilizes a pure proof-of-stake consensus mechanism to verify authentic transactions, as opposed to Bitcoin's proof-of-work mechanism. Proof-of-work, which is the chief villain in criticisms of crypto's carbon footprint, requires so-called verifiers to task supercomputers with solving complex mathematical puzzles, thus spending enormous amounts of electricity in what's referred to as mining.
However, proof-of-stake protocols require verifiers to invest in the system not with a load of electricity, but by putting up cryptocurrency as collateral. Algorand, which was engineered by MIT professor Silvio Micali—who also won the Turing Award that's often called the "Nobel Prize of computing"—was designed with this in mind.
"From traditional payments, to NFTs, to DeFi and the metaverse, we have the technology that delivers speed, scale, security and decentralization, all on a carbon-neutral platform," said Staci Warden, CEO of the foundation. "Algorand was built from the start to achieve [this] . . . That's what sets us apart from other blockchains."
The blackout will follow a brief message broadcast in blazing green, urging people to "unplug, celebrate the Earth, and commit to building a greener future." Last year, the protocol partnered with ClimateTrade, a blockchain-based platform for enabling CO2 offsets, to become net-carbon-negative.
Bitcoin, the world's largest cryptocurrency with a market capitalization of nearly $790 trillion, is proudly built on mining. However, Ethereum, the second-largest cryptocurrency with less than half of Bitcoin's market cap, is gearing up to transition from proof-of-work to proof-of-stake later this year.