Economic
Feeling a little dread about the economy? You're not alone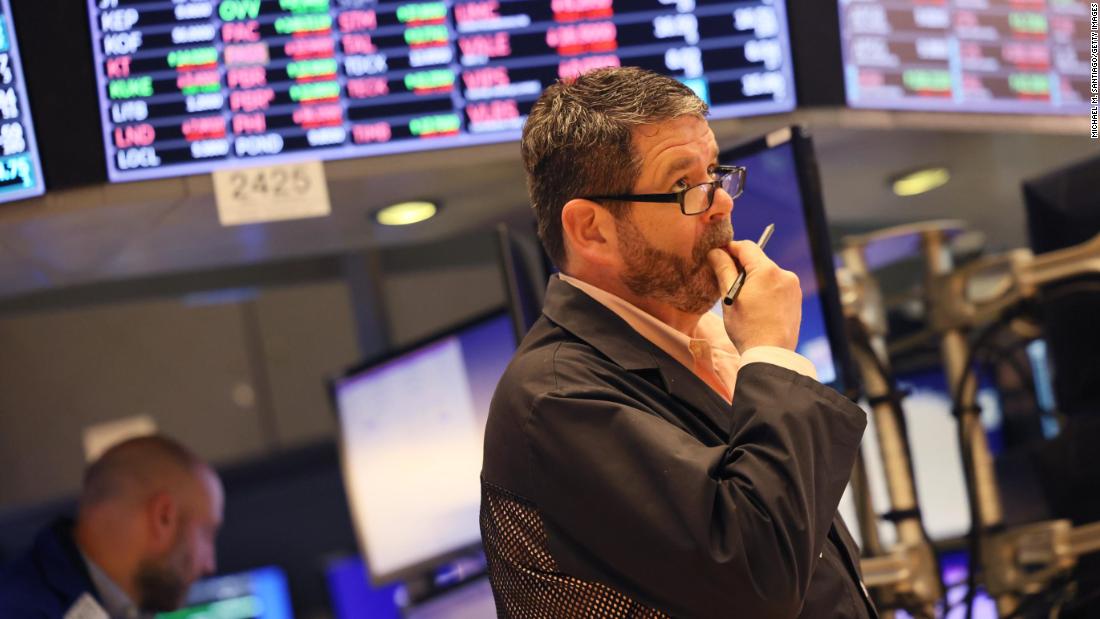 And there's very little President Joe Biden or anyone else can do but sit back and watch like the rest of us.
The Fed's rate hike of half a percentage point is large, which helped push stocks lower Thursday. But the federal funds target rate, which now stands at 1%, is still historically low and hasn't been above 5% since before the Great Recession.
CNN's Matt Egan writes that the Fed could raise its rates to at least
3% by the end of the year to
combat inflation
. He notes the rate peaked at 22% in 1981
— which seems bonkers today — as Fed officials went scorched-earth to combat runaway inflation back then.
Higher rates could be good for savers, he writes, and challenge the stock market, which he says has "become accustomed to — if not addicted to — easy money."
How will higher rates affect you?
Mortgage rates are up
2 percentage points, from below 3% a year ago to more than 5%, the highest since 2009, reports CNN's Anna Bahney.
This is likely driving some homebuyers from the market, and for others, creating a mad dash to get something and lock in a rate. Housing prices, theoretically, will cool … eventually.
Interest rate hikes to fight inflation
Higher rates are going to make borrowing more expensive — even though the hike is the Fed's answer to everything else already getting more expensive. It's the tough medicine the Fed's economists have prescribed to cool the inflation instigated by a chain reaction of factors:
Supply chain kinks that won't straighten out.
Energy and food market problems created by Russia's war in Ukraine.
New Covid-19 lockdowns in China.
Presidents get the blame
None of those explanations will shield Biden from shouldering blame. A majority of US adults in a new CNN poll say the President's policies have hurt the economy, and 8 in 10 say the government isn't doing enough to combat inflation.
And it won't do any good for Biden to simply focus on the many bright spots in the US economy — like an extremely low unemployment rate and the continued comfort that millions of Americans feel to
quit their jobs
.
This is the dichotomy for Biden and policymakers. There's a sense of dread, but a lack of worry. Americans are spending money, feeling comfortable enough to quit their jobs, and the housing and car markets have not yet started to tank.
The economy is still humming
In his recent piece on the stock market's worst start to a year since 1939, CNN's Paul R. La Monica writes, "Stagflation worries persist, but so far, it's all 'flation' and no 'stag.'"
Wait, what?
He writes: "Although confidence and sentiment measures have been declining due to inflation concerns, retail sales remain strong, a phenomenon that some economists have dubbed 'revenge spending' following two brutal pandemic years. And as far as corporate profits go, actions speak louder than words."
There are signs that job growth, however,
has started to slow
, and April jobs data, set to be released on Friday by the Bureau of Labor Statistics, will be much scrutinized.
What Matters term of the day: 'Double-dip recession'
Some economists and market strategists now worry that a brief recession is inevitable because of these first few rate hikes.
But if the Fed takes a victory lap too soon and slows the pace of future rate increases, the risk is that inflation could come roaring back and lead to another longer and deeper downturn.
That's the dreaded double-dip recession scenario. In 1980, the economy had a short recession that lasted just six months, followed by a 16-month downturn that stretched from the summer of 1981 through the fall of 1982.
CNN's Stephen Collinson writes smartly about the
difficulty in this for Biden
, whose Democratic Party
is facing a very bad November if Americans are sour on the economy as they vote in the midterm elections.
White House says look at the economy with more nuance
On CNN's "New Day," Brianna Keilar asked Jared Bernstein, a member of Biden's Council of Economic Advisers, if the President was out of touch on the economy.
"Not at all," he said, arguing Biden will mention inflation every time he talks about the economy.
However, Bernstein argued that the numbers suggest people are doing better than the dreadful perception.
"We have a couple of things going on at the same time," Bernstein said. "We have households experiencing extreme discomfort, something the President is acutely attuned to regarding inflation. But we also have those households hitting this period from a position of strength based on their balance sheets, based on the job market."
What's Biden doing?
None of those efforts, on their own, are going to solve inflation, which is Biden's problem. He can do everything he can, and it still may not feel like he's accomplished much.