Economic
LaSata congratulates Cassopolis on new economic development project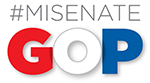 LANSING, Mich. — State Sen. Kim LaSata on Tuesday applauded the announcement of a new development in Cassopolis that will provide an economic boost to the area and is projected to bring a number of job openings for area families.
"We have shown the world that Michigan means business, and I am happy to see more companies look to expand their operations here in our great state," said LaSata, R-Niles. "This is great news for the local economy and for Southwest Michigan workers.
"I want to applaud area leaders for their hard work in attracting this opportunity and sealing the deal."
The Michigan Strategic Fund (MSF) board approved an initiative to support an expansion project with Hydro Aluminum Metals USA, LLC in the village of Cassopolis. The company's primary focus is recycling aluminum into a finished product that has a variety of uses.
The project will include the construction of a new production facility and is expected to include resources for a proprietary aluminum casting process that uses more than 75% recycled content. The company plans to use the new facility to debut a new product line to support the electric vehicle market.
The facility would be the first manufacturing operation located at the Southwest Michigan Advanced Research and Technology (SMART) Park in Cassopolis and is set to create up to 67 new jobs.
###