Economic
Outdoor Economy Conference tackles tough questions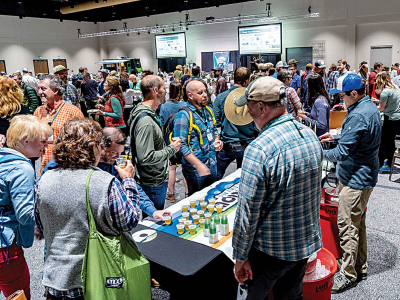 But after taking a few weeks to mull it over, organizer Noah Wilson, who serves as sector development director for Mountain BizWorks, was willing to try. 
"For me, those big themes are that there's a role that we have to play in our environment as changemakers, and that is that we have to find ways to really be in balance with our places," he said. "Because some of our places are getting loved to death."
Jackson County Tourism Development Authority Executive Director Nick Breedlove was one of the conference's 70 speakers. Steven Reinhold photo
'Threading the needle'
The outdoors is big for North Carolina, where the industry  contributes $28 billion annually in consumer spending — much of that in the world-renowned mountains of the western region. From gear shops, manufacturers and guide services that offer a gateway to exploration to the bars, hotels and restaurants that welcome visitors at the end of each adventurous day, Western North Carolina's natural beauty supports livelihoods and whole communities. 
But even as it generates dollars, increasing demand for mountain getaways causes problems. From a garbage-strewn Max Patch  and mile-long rows of cars  spilling from trailheads like Alum Cave and Chimney Tops to rising housing costs  and pressure on public services, the impact is impossible to ignore. 
The 2022 conference theme, "Stewards of Opportunity," was chosen to take aim at that issue, and turn the attention of the diverse group of industry professionals who traveled to Cherokee last month toward the question of how to foster a thriving outdoor industry while also being good stewards of the people and places hosting it. 
"It's that question of how do we all work together to take care of our places and build our economies and ensure that conservation and recreation really are tied closely together?" Wilson said. "There were a lot of sessions that spoke to that."
One such session, a panel on visitor use management data, tools and techniques, was held the morning of Wednesday, April 7. 
"We know that more and more people are coming. We're not turning a blind eye to it," said Jackson County Tourism Development Authority Executive Director Nick Breedlove, a speaker on the panel. "We want to manage the experience. We want to make sure that those that come have a great experience, but we also want to make sure that our residents are comfortable with visitors."
It's like "threading a needle" he said — small businesses rely on the money visitors spend, but too many tourists coupled with poorly managed visitation can ruin the experience. Not just for future visitors, but for locals as well. 
"There's destinations I used to love to go visit," Breedlove said. "Now they are so overrun by visitors I actually avoid going there."
Breedlove, who has been leading the TDA  since 2016, outlined several strategies his office is using to build a tourism industry in Jackson County that will provide maximum benefit to business owners and minimal impact to residents and resources. 
Back in 2018, the TDA started advertising a "secret season" from January through March in a bid to stop increasing pressure on high-demand months like July and October and help small businesses boost profits during traditionally slow months. The organization recently spent $2,000 on Leave No Trace  signs for popular areas to remind visitors how to enjoy them responsibly, and the TDA also spends about $60,000 annually on research showing when and where visitors spend their time and money. Those results help inform messaging decisions. 
"A lot of us in this industry are about promotion," Breedlove said. "Sometimes in this industry, we need to be about de-promotion — not promoting specific sites in our community."
In addition to thoughtful sessions, the conference prioritized opportunities for connection, like open lunches and breakfasts and a craft beer tasting. Steven Reinhold photo
The constant conversation 
During the same month the conference unfolded, Friends of the Mountains-to-Sea Trail celebrated the trail idea's 45th year , the Great Smoky Mountains National Park announced a ground-shaking proposal  for a parkwide parking fee, and the much-anticipated Chestnut Mountain Nature Park  opened in Canton. 
The same conversation — the importance of the outdoor economy, increasing demand for outdoor spaces, and the ever-present question of how to welcome visitors without harming local resources and communities — ran through each event. 
"The thing that's got us to this point is a certain style of management that hasn't evolved," Blue Ridge Parkway Superintendent Tracy Swartout said during an April 8 panel discussion  hosted by Friends of the MST. "We know the parks, we know how to manage them, we know how to bring in lots of people and give them a great experience and protect the resources. But the order of magnitude of the visitation that we have, the interests and the uses of the land that people want to do, has changed in a way that we have to change with them."
The Parkway recorded 15.9 million visits last year, a number that returned it to its often-occupied spot as the country's most visited National Park Service unit . Though individual places on the Parkway have seen significant increases in use during recent years, the overall visitation number isn't out of line with the historical tally. 
In the Smokies, it's a different story. The park received 14.1 million visits  last year, with a 57% increase over the last decade. That statistic, combined with flat federal funding, led the park to put forth a controversial proposal that, if enacted, would require paid parking tags to park a car in the historically free-to-use park. 
Wilson said he understands the problem — the park needs more money. But he also thinks there's a "lot of room for creativity" in determining a solution that will address the need without hurting the local community. 
And that, he said, is the value of the Outdoor Economy Conference. Western North Carolina isn't the only region grappling with these issues — from scannable QR codes that make it easier to donate money to free park passes available for checkout through the local library , creative ideas are out there. The conference allows those ideas to be swapped and shared, so that communities don't have to waste time reinventing the wheel. 
"I have a mentor in the conference world who taught me that the most important work at a conference happens in the hallways," Wilson said, and it's a concept he took to heart when designing the conference.  
Those small interactions, exchanges between people from far-apart places who might never otherwise meet, combine to create new ideas, new collaboration, new partnerships that will later affect our collective future. 
"There's ripple effects that I know will happen for years to come as a result of this conference," Wilson said. 
Wilson said he's seen a surge of willingness to engage in that kind of creative collaboration, and he believes it bodes well for the future of the outdoor economy. 
Case in point: Chestnut Mountain. The 450-acre nature park opened in Canton April 22 and is the result of intense collaboration between nonprofits, governments, lawmakers and private individuals. 
"That was a project that really was built to ensure that recreation drives conservation and economic development while there being habitat for the wildlife and rare species," Wilson said.  "That kind of balanced, holistic approach is really a best practice, and it's something that I'm super excited we have here in our region." 
Mentorship program launching
The fifth annual Outdoor Economy Conference is over a year away — scheduled for Sept. 18-21, 2023 — but in the meantime Mountain BizWorks' Growing Outdoors Partnership Growth Initiative is busy with a variety of outdoor industry efforts, including the launch of Building Outdoor Communities, a waypoint accelerator program for communities involved with the outdoor industry. 
The program is modeled on the Waypoint Accelerator program for outdoor businesses, which Sector Development Director Noah Wilson said has allowed participants to double their sales year-over-year. The new program would place communities from across Western North Carolina together in a cohort, where they would build connections and receive mentorship to figure out where they want their local outdoor industries to go, and what they need to get there. The application process will start this summer, with the kickoff event planned for Sept. 19-20 in Boone. 
"That stuff works, and so we're applying that same mindset to our communities," said Wilson. 
For more information about Mountain BizWorks' outdoor economy efforts, visit mountainbizworks.org/growing-outdoors-partnership.