Economic
Report shows how immigrants have helped Utah's economy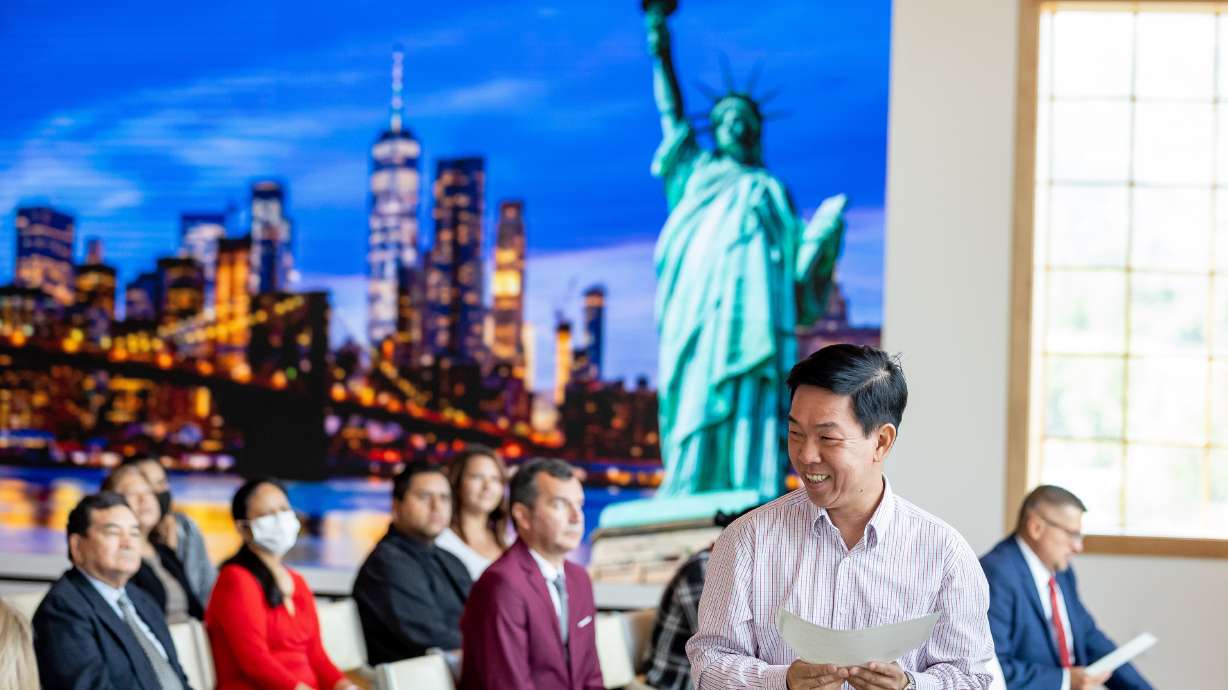 Tuan Do, formerly of Vietnam, smiles as he receives his U.S. citizenship certificate at a naturalization ceremony at This is the Place Heritage Park in Salt Lake City on July 21, 2021. A new report showing the influence immigrants have had on Utah's economy is more than enough reason for a local task force to ensure those coming to the state continue to have good experiences here. (Spenser Heaps, Deseret News)
Estimated read time: 4-5 minutes
SALT LAKE CITY — The influence immigrants have had on Utah's economy is more than enough reason for a local task force to ensure those coming to the state continue to have good experiences here.
A new report provides data that Utah's New Americans Task Force, which convened Tuesday, will use to help create goals and recommendations for the state to improve immigrant experiences and contributions to the economy. It's a "statewide effort to … maximize new Americans' economic opportunities, social inclusion, civic potential and build a robust community of belonging in Utah," according to the task force.
One of the priorities in the Utah Gov. Spencer Cox's "One Utah Roadmap" is for immigrants and refugees to be welcomed and included, he said in a recorded video. Cox said he looks forward to hearing about the strategies that will be presented by the task force.
"We know new Americans play a vital role in the state's fastest-growing economy and most in-demand fields," he said.
Cox said that the number of immigrants in Utah increased 64% between 2000 and 2019.
Immigrants represented 8.4% of the state's population in 2019, including 10.1% of the state's science, technology, engineering and math, or STEM, workers; 18.7% of all manufacturing workers; and 7.8% of health care workers in Utah, including 12.4% of doctors, the recent report shows. Leani Garcia Torres, deputy director of state and local initiatives at the American Immigration Council, shared those statistics with the task force Tuesday and said the goal of the research is to quantify how immigrants help the economy.
"Immigrants are vital to the success of this nation," Torres said, adding that the report shows the number of immigrants in Utah is increasing at a higher rate than it is nationwide, and the immigrants coming to Utah are more likely to be the right age to join the workforce than the average U.S. immigrant.
The report shows the vast majority of immigrants coming to Utah are from Mexico — almost 40% — although there are immigrants coming to Utah from other countries around the world.
There were 8,500 international students in Utah during the 2020-2021 school year who were contributing to the economy and supporting jobs. Additionally, the growing immigrant population means that 16.5% of Utah students in public education are immigrants or the children of immigrants, people who bring a global perspective that can build Utah.
---
This is a statewide effort that will help bolster Utah's economy through immigrant businesses, through innovation, and further solidify efforts that started decades ago.
–Derek Miller, Salt Lake Chamber
---
In Utah, according to the 2020 census, the population grew 38.8% over the past decade, but the immigrant population increase was 63.7%, so immigrants accounted for much of the state's growth, Torres said.
She said the report shows that there are opportunities for the state to help immigrants, including addressing the percentage of immigrants who start businesses, which is lower in Utah than nationally.
Andrea Verkic, executive director at Morgan Stanley, immigrated to the United States from Yugoslavia during a civil war when she was 5 years old. Her parents traveled with her to Germany on a bus during the war and eventually got to Utah. Verkic said that her parents decided to stay in Utah because of the opportunity it would provide for their two children.
She enrolled in elementary school quickly, before she knew English, and a local man who had served a mission in Germany helped teach her English and taught her classmates German. Verkic's teacher also got a dictionary to write notes to her in German.
She said the tight-knit community in Utah that is willing to come together to serve others is what helped her to find belonging here. Her father was able to get a job as a truck driver. She then helped him write an English resume, and later purchase his own truck and start a contracting business, sponsoring other new Americans.
"I'm here in front of you today as a really proud Utahn — thank you for including me in this community — but also as a proud daughter of a father living his American dream," Verkic said Tuesday.
She said she is excited to see how the task force will help the community in Utah.
Derek Miller, president and CEO of the Salt Lake Chamber, said Utah is a place where the American Dream is still alive, and that the state should strive to be a place where people can come to achieve the American Dream.
"This is a statewide effort that will help bolster Utah's economy through immigrant businesses, through innovation, and further solidify efforts that started decades ago," he said.
A 2010 coalition of Utahns including state leaders, private leaders, religious groups and law enforcement, outlined a set of immigration principles known as the Utah Compact to change the tone of the conversation about immigration throughout the country. Miller said this helped improve the immigration debate nationwide.
The Utah Compact, he said, is based on values of compassion, openness and economic prosperity. In 2019, the chamber invited the original participants and new leaders to reaffirm the same values.
"We believe these conversations surrounding new Americans and immigrants are even more relevant today. We recognize the critical role that new Americans play in the economic prosperity of our state. They positively impact our economy through entrepreneurship, workforce participation, tax contributions and spending power," Miller said.
×
Related stories
Most recent State of Utah stories
More stories you may be interested in