Energy
The energy we don't use: How to realize the benefits of the greenest, most affordable energy
Decarbonization, energy security and lower energy bills go hand-in-hand – it's time to double down on going green by putting energy efficiency first.
3 examples of where to take action today with immediate impact: making buildings smart, reusing excess heat and rethinking industrial processes.
The IEA's 7th Annual Global Conference on Energy Efficiency in Sønderborg, Denmark on 7-9 June will be a chance to see solutions in action and get going on implementation.
The IPCC's recent report makes it clear that we are at a critical juncture in addressing climate change. Add to this a global energy crisis felt directly by consumers struggling to pay energy bills and the focus on reducing dependence on fossil fuel imports. While all tools to increase energy independence, reduce carbon emissions and lower energy bills are on the table, one should be at the top of the list for urgent action: energy efficiency.
As the International Energy Agency's Executive Director Dr Fatih Birol and Denmark's Minister for Climate, Energy and Utilities Dan Jørgensen point out: "If our homes leak less heat, our cars burn less petrol and our washing machines use less electricity, it reduces energy bills, supply strains, fossil fuel imports and greenhouse gas emissions."
The good news is: we already have the solutions ready and on the market to do all of this – and much more.
By using existing technologies and focusing on first reducing the amount of energy used, reusing energy already produced and finally replacing the energy with green alternatives, we can, for example, turn the European heat supply green. It's even good business. Three areas are especially ripe for action to rapidly reduce energy consumption: 1) making our buildings smart; 2) using excess heat from supermarkets, data centres or industry to heat our homes and businesses; and 3) rethinking processes for carbon neutral industry.
Making our buildings smart

Many buildings rely on fossil fuel for heating, and we should start by reducing the amount of energy they consume. Digital solutions, which are easy and quick to install, create smart, energy efficient buildings.
For example, a local housing cooperation in Sønderborg, southern Denmark, has retrofitted 576 apartments with model predictive control (MPC) systems, which collect data on several factors – including the weather, showering habits of the inhabitants and expensive peak hours – and adjust the supply of energy accordingly, all while securing optimal thermal comfort. Apartments were fitted with sensors that enable artificial intelligence software to optimally control the HVAC system. The system not only cuts energy costs for tenants directly, it also allows the buildings to act as energy batteries, shifting consumption to the periods during the day, where energy is cheaper. For residents, typical savings when installing this software are around 10%. In addition, building owners save up to 30% in technical maintenance costs and district heating companies can use up to 20% less power at peak hours. This means using less power to reach more customers.
Turning supermarkets and data centres into heat providers

Beyond reducing energy use, we can reuse energy already produced. Most of us visit our local supermarkets regularly. Maybe some of us have considered the energy being used to keep the food we buy fresh and safe. But as anyone who has put a hand on the backside of a refrigerator will know, keeping our food cold creates heat. Why let it go to waste?
Using existing cooling and heat recovery technologies, we are already able to use the heat from supermarkets to heat local communities, transforming the supermarkets from energy consumers to sources of sustainable energy. This approach creates self-sustaining energy solutions that leave a green footprint and save money at the same time. And it is already happening.
The same principle can be applied to data centres and industry, which both consume enormous amounts of energy – and create enormous amounts of heat.
Moving to clean energy is key to combating climate change, yet in the past five years, the energy transition has stagnated.
Energy consumption and production contribute to two-thirds of global emissions, and 81% of the global energy system is still based on fossil fuels, the same percentage as 30 years ago. Plus, improvements in the energy intensity of the global economy (the amount of energy used per unit of economic activity) are slowing. In 2018 energy intensity improved by 1.2%, the slowest rate since 2010.
Effective policies, private-sector action and public-private cooperation are needed to create a more inclusive, sustainable, affordable and secure global energy system.
Benchmarking progress is essential to a successful transition. The World Economic Forum's Energy Transition Index, which ranks 115 economies on how well they balance energy security and access with environmental sustainability and affordability, shows that the biggest challenge facing energy transition is the lack of readiness among the world's largest emitters, including US, China, India and Russia. The 10 countries that score the highest in terms of readiness account for only 2.6% of global annual emissions.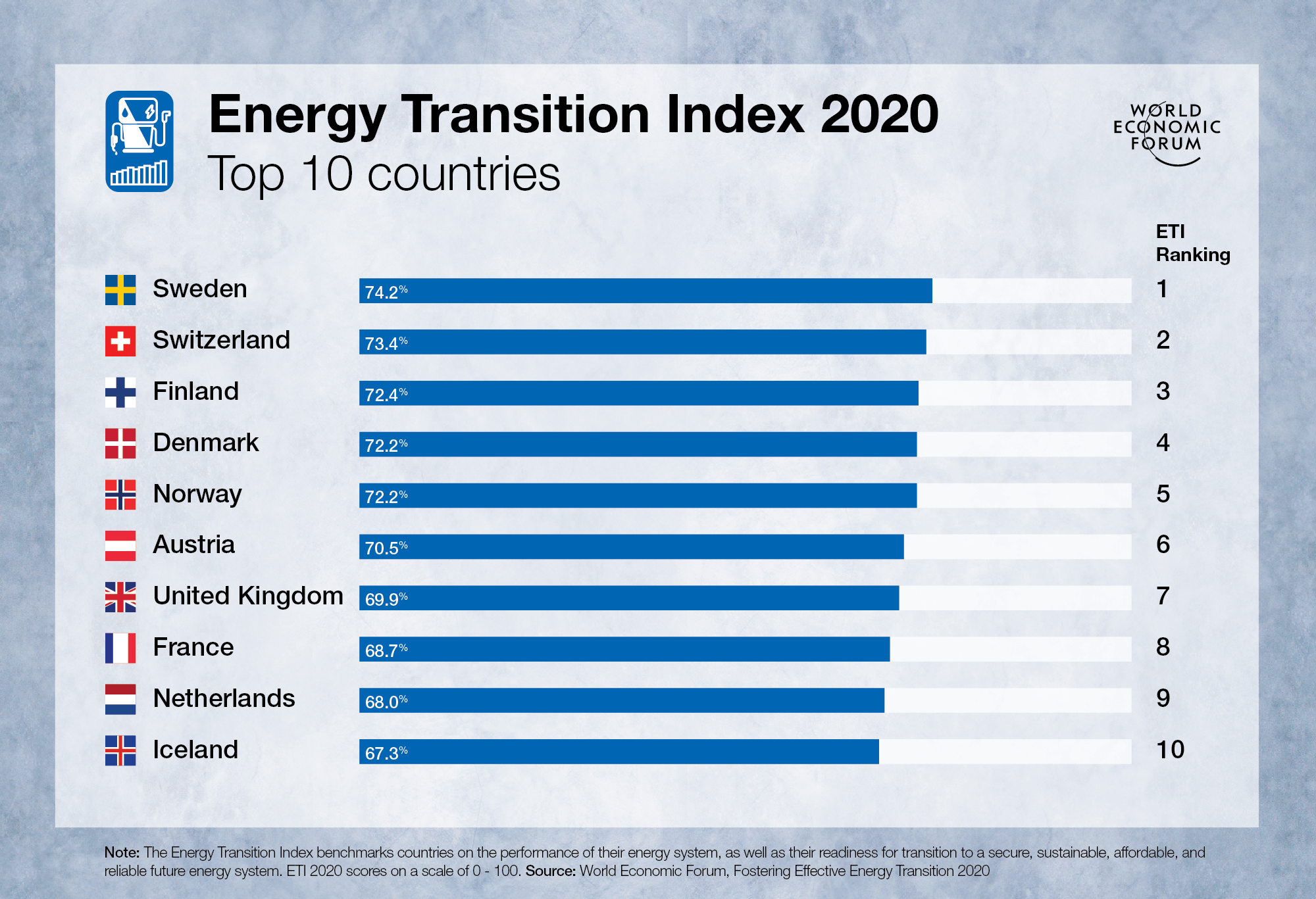 Additionally, the Mission Possible Platform (MPP) is working to assemble public and private partners to further the industry transition to set heavy industry and mobility sectors on the pathway towards net-zero emissions. MPP is an initiative created by the World Economic Forum and the Energy Transitions Commission.
Is your organisation interested in working with the World Economic Forum? Find out more here.
Rethinking processes for carbon neutral industry

Industry is another sector heavily reliant on fossil fuels and another place where we can use existing technology to reduce, reuse, and replace the energy used today.
My own company Danfoss is headquartered in the same municipality of Sønderborg as the examples above. We have 250,0000 square meters under roof and this is not just an office site, but actual factories with production of components. In 2015, our headquarter campus was heated 100% by fossil fuels. This year, it will be carbon neutral in buildings and processes. We are achieving this by using our own solutions. We will use surplus heat from our own data centre and production to heat our facilities, and we will decrease our energy needs by using all available efficiency measures. The energy we do use will be renewable. The transition has not happened overnight, or by chance. We have invested close to €19 million. But the investments have already repaid themselves – besides having a positive climate impact. In fact, we save over €5 million yearly.
Moving from words to action

These are just a few examples that demonstrate the enormous potential of energy efficiency. Technology is already on the market and proven to cut energy bills and emissions and reduce reliance on fossil fuels. What is needed now is action and the policies to enable it.
This will be the key message when energy ministers, business leaders and civil society from around the world gather in Sønderborg, Denmark on 7-9 June for the International Energy Agency's 7th Annual Global Conference on Energy Efficiency. The conference will underline the importance of early action but also show decision-makers how solutions such as those at the local supermarket, housing association and manufacturing industry are already implemented and making a real difference. We will move out of the conference room and talk to local businesses who can testify that the greenest, most affordable, most secure energy is the energy we don't use. I hope to see you in Sønderborg.