Politics
Abortion rights supporters rally outside WA Capitol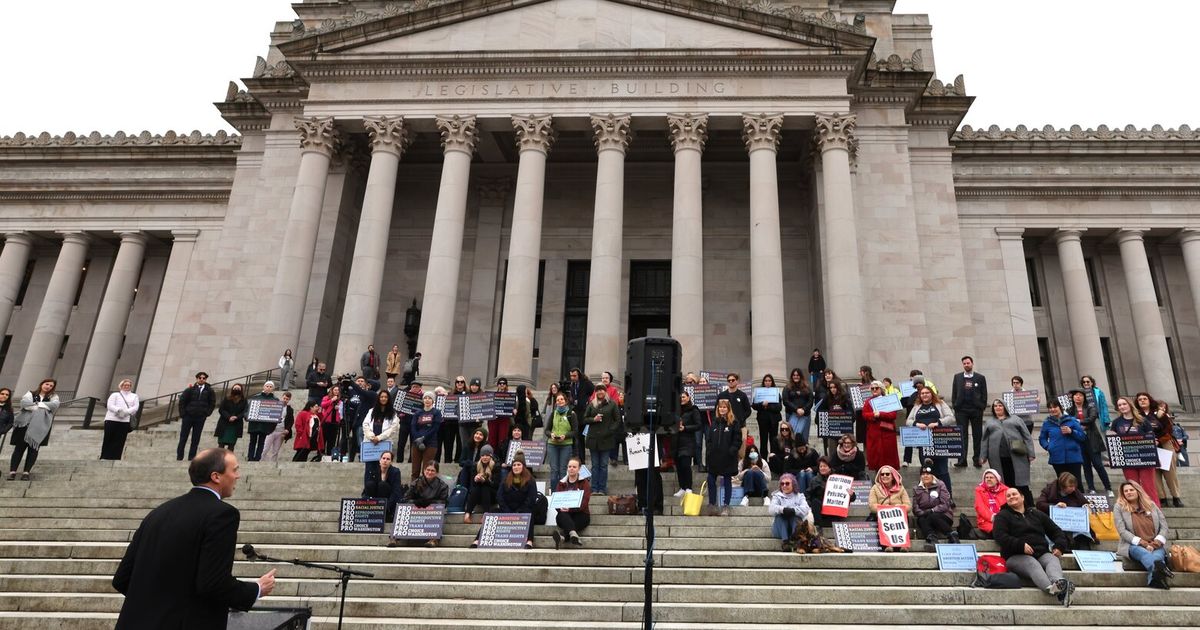 OLYMPIA — Alicia Hupprich stood outside the state Capitol on Tuesday alongside over 70 other abortion rights advocates, wearing pink and holding signs to protect a woman's right to choose.
Behind her, almost 20 anti-abortion activists wore red and held large signs picturing alleged fetuses at the time of abortion.
Hupprich shared her personal story to show support for upcoming reproductive rights bills in the 2023 legislative session.
In 2015, Hupprich drove from her home in Washington, D.C., to New Jersey to get an abortion after discovering the daughter she was pregnant with had a heart condition. She said there was only one doctor who could perform abortions after 18 weeks anywhere remotely close to her. And she had to pay for her abortion since her insurance did not cover any abortion costs under the Hyde Amendment.
"The patients that need to access abortion are human beings with full lives, are not a number on a spreadsheet," Hupprich said. "We need to prioritize giving autonomy to individuals to make the best health care decisions for their unique situations."
Different generations stood together on the steps of the Capitol for the rally organized by Pro-Choice Washington including groups like ACLU Washington, Cedar Clinics, Planned Parenthood and Legal Voice.
Holding a sign saying "Ruth Sent Us," Amy Myers chuckled while reminiscing that she had to protest for the same right 50 years ago.
"I hope it just goes through real easy and Washington state gets its law in the constitution," Myers said.
Myers and others were joined by state Attorney General Bob Ferguson; House Speaker Laurie Jinkins, D-Tacoma; Sen. Emily Randall, D-Bremerton; Sen. Yasmin Trudeau, D-Tacoma; Rep. Sharlett Mena, D-Tacoma; Rep. Marcus Riccelli, D-Spokane; and Rep. Darya Farivar, D-Seattle.
Onalyz Babcock came to the Capitol with her toddler to testify against the proposed bills.
"I don't think any humans have the right to end another human's life," Babcock said.
Babcock said she used to be for abortion rights, but she has since changed her mind.
"I came here today looking for common ground, hoping to speak and strike relationships with people," Babcock said. "And I hope that they also would like to hear us out."
After abortion rights activists finished making their remarks, a counterprotester yelled out, "What does God think about the decision of taking a life?"
The two sides then briefly yelled at each other, until dispersing to attend hearings or go elsewhere.