Politics
No 10 refuses to say if ethics adviser will be replaced following Lord Geidt's resignation after being put in 'impossible position' – live | Politics
No 10 refuses to confirm that Johnson will appoint new ethics adviser to replace Lord Geidt
The Downing Street lobby briefing has just finished, and the prime minister's spokeperson has refused to confirm that Lord Geidt will definitely be replaced as the PM's ethics adviser.
The spokeperson said that having a process for ensuring standards are maintained by ministers was "vitally important".
But he said that Geidt himself had raised a number of issues about how the independent adviser on ministers' interests operated and he said Boris Johnson wanted to "carefully consider those and reflect on them".
Asked if it was possible that Geidt would not be replaced, the spokesperson replied:
We have not made a final decision on how best to carry out that function, whether it relates to a specific individual or not, particularly given some of the issues that have been raised recently the prime minister alludes to in his letter. So he will carefully consider that before setting out next steps.
Ministers have faced questions about why plans to reform the private rented sector did not do more to address rising rents amid the cost-of-living crisis.
As PA Media reports, the government published a white paper today setting out its plans to make the rented sector fairer. Under the plans, section 21 'no fault' evictions will be banned, the decent homes standard will be extended to this sector, arbitrary rent review clauses will be disallowed and renters will get extended rights.
The white paper will also be made illegal for landlords or agents to place blanket bans on renting to families with children or those in receipt of benefits.
The plans in the white paper will form the basis of a renters reform bill that the government has promised in this session of parliament.
In the Commons Matthew Pennycook, a shadow communities, said the plans did not go far enough to protect tenants from steep rent rises. He told MPs:
In none of the coverage this morning or in the white paper itself is there any sign of meaningful proposals to address the problem of unreasonable rent rises.

A one-year rent increase limit, the removal of rent review clauses, and vague assurances about giving tenants the confidence to challenge unjustified increases at tribunal is simply not good enough.
Geidt resigned as a result of Johnson 'protecting the British steel industry', says Rees-Mogg
Jacob Rees-Mogg, the Brexit opportunities minister, has told Newsnight's Nicholas Watt that the Geidt resignation saga is really a story about Boris Johnson "protecting the British steel industry". (See 1.45pm.)
John Pullinger, chair of the Electoral Commission, has said that the Elections Act that became law earlier this year is a threat to the independence of his organisation. The new legislation allows ministers to issue a strategy and policy statement giving directions to the commission and, in an interview with Prospect, Pullinger said this was incomptible with his organisation being independent.
Although he stressed he would continue to do his job independently and impartially, he said:
Most people would think that the government of the day has only one strategy and policy priority for the next election, and that's to win it for themselves. Powers on the face of a bill like that are inconsistent with the Electoral Commission acting as an independent regulator.
The commission is in charge of ensuring that elections are carried out fairly, and that election spending rules are enforced.
Scottish Tory leader Douglas Ross accuses Sturgeon of favouring 'grievance over governing'
Nicola Sturgeon has claimed the Conservatives are "terrified" of another vote on Scottish independence after the party's leader in Scotland challenged her priorities.
At first minister's questions Douglas Ross, the Scottish Conservative leader, asked why Sturgeon chose this week to make a second independence referendum a priority.
Sturgeon replied:
There is a real desperation at the heart of Douglas Ross's approach to independence. It's very telling that he is so terrified of the substantive debate on independence, so terrified of the verdict of the Scottish people on independence, that he's reduced to somehow trying to pretend that democracy in Scotland is illegal.

It is not a question of whether this government respects the rule of law – we do and always will – the question is, is Douglas Ross a democrat? And I think the glaring answer to that is no.
In response Ross said:
First Minister, your priorities are all wrong at the worst possible time …

A focus on our recovery, that's what the Scottish people overwhelmingly want, not a referendum.

We need a strong government for all of Scotland, but we're getting a weak campaign group for the nationalist minority that values grievance over governing.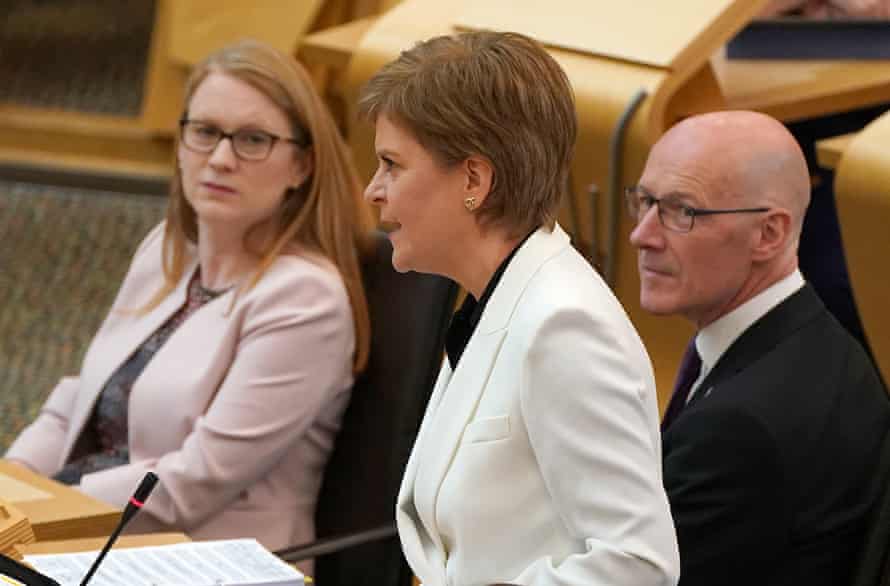 Parliament should get power to compel witnesses to give evidence to Commons committees, MPs say
Witnesses should not be able to avoid giving evidence at inquiries after "an increasing number of rich and powerful" people have done so in recent years, MPs have said. As PA Media reports, the Commons committee of privileges has published a report recommending legislation which would ensure parliament can compel witnesses to turn up to the House of Commons when summoned.
Explaining the recommendations, Chris Bryant, who chaired the committee when it was carrying out its inquiry, said:
The right of select committees to summon witnesses and hold the powerful to account cuts to the heart of our parliamentary democracy.

Most witnesses are more than happy to give evidence to a Parliamentary inquiry.

But an increasing number of the rich and powerful have started to resist engaging with select committees in recent years and, in doing so, have shown contempt for Parliament and the people it represents.

From billionaire high street moguls to unaccountable government advisers, these proposals will make it tougher for such individuals to disregard their democratic duty.

Our proposals, if approved by the house, will empower select committees to compel reluctant witnesses to attend or provide documents to parliamentary investigations – allowing committees to conduct their work efficiently and fairly.
The Trade Remedies Authority has put out a statement in response to the letter from Boris Johnson to Lord Geidt earlier today, which says Geidt resigned after being asked to advise on a matter related to the TRA. (See 12.01pm.) The TRA says this refers to a case "called in" by the government, which means ministers have "full decision-making authority" in relation to it.
In other words, the TRA seems to be saying: don't blame us.
These are from Paul Caruana Galizia from Tortoise, who has a new detail about a well-documented party that Boris Johnson attended in Evgeny Lebedev's villa in Italy in April 2018.
Here are two more people who find the circumstances of Lord Geidt's resignation curious.
This is from Mark Reckless, a former Conservative MP who went on to lead the Brexit party in the Senedd.
And these are from Sir Jonathan Jones, who was head of the government's legal department until he resigned over the government's plans to break international law with the internal market bill.
UPDATE: According to David Anderson, a peer and former independent reviewer of terrorist legislation, even though the explicit reference to having to obey international law was removed from the ministerial code (Mark Reckless's point above), an implicit obligation to follow international law remained.
At the Downing Street lobby briefing the prime minister's spokesperson said ministers would not be getting directly involved in talks to stop the rail strikes next week. The spokesperson said:
Broadly speaking, we remain of the position that it is for the unions to negotiated with their employers rather than the government stepping in, there's no change in that approach.
Proposed legislation to enable the use of agency workers on the railways if the industrial action persists would take "weeks rather than months", the spokesman added.
The Foreign Office has announced a fresh wave of sanctions against Vladimir Putin's allies, including on officials involved with the "barbaric treatment of children in Ukraine", PA Media reports. PA says:
Each individual has been dealt an asset freeze preventing them from dealing with British banks or businesses, and a ban on flying to the UK.

Those sanctioned include the Russian children's rights commissioner, Maria Lvova-Belova, who has been accused of enabling 2,000 vulnerable children to be violently taken from the Donbas region for adoption in Russia.

The measures also apply to the head of the Russian Orthodox Church, Patriarch Kirill, who supports Putin's war, and Sergey Savostyanov, the deputy of the Moscow city Duma.

Speaking in the Commons, Liz Truss, the foreign secretary, said Patriarch Kirill has "repeatedly abused his position to justify the war".
This is from Angela Rayner, Labour's deputy leader, on Lord Geidt's resignation letter.
Lord Geidt walked out because of the odious behaviour of Boris Johnson's Downing Street. This prime minister has, in his own adviser's words, made a mockery of the ministerial code. He has now followed both his predecessor and the anti-corruption tsar out of the door in disgust.

There are now no ethics left in this Downing Street regime propped up in office by a Conservative party mired in sleaze and totally unable to tackle the cost of living crisis facing the British people.