Politics
William Barr's stunning evolution from Trump loyalist to nemesis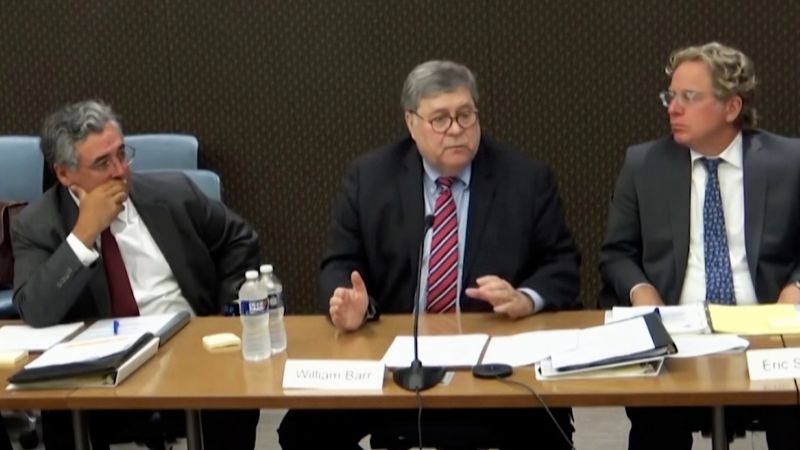 CNN
 — 

From villain to hero.
Democrats once accused former Attorney General William Barr of lying to Congress and covering up Donald Trump's corruption. They said he was more interested in serving as the ex-President's attorney than the nation's independent top law officer separated from the White House by an invisible wall.
But it is a mark of the extreme choices Trump forces upon those who served him that the ultraconservative career lawyer now finds himself on the same side as his liberal onetime accusers in defending America's democracy.
With his salty dismissals of the former President's election fraud lies as "bullshit," "crazy," "amateurish" and "total nonsense," Barr has turned into Trump's nemesis with his taped testimony to the House select committee investigating the January 6, 2021, attack on the US Capitol.
His gruff bluntness is not just dismembering the ex-President's fantastical claims that he won the 2020 election. It's also hacking away at the entire false premise of Trump's nascent 2024 campaign: that he was cheated out of power and deserves to get his job back.
Should Trump nevertheless win that election, it's a safe bet that he won't be calling again on an attorney general who effectively self-selected himself for the job with a withering critique of then-special counsel Robert Mueller's Russia probe.
And Trump has amended his assessment delivered after Barr tormented Democrats in a fiery hearing in May 2019: "He's an outstanding man. He's an outstanding legal mind."
In a post on his inaptly named Truth Social network on Monday, the ex-President claimed Barr lacked the "courage or stamina to go after voter fraud." As Barr testified to the committee, there was never any evidence of significant fraud.
Barr's second tenure as attorney general – reprising a role he once served for that most conventional of Republican presidents, George H.W. Bush – risked going down in history as that of an enabler of an often-lawless inhabitant of the Oval Office. That perhaps hints at his motivation, at the end of a long Washington career, for trashing Trump's fraud fantasies under oath to the committee – and apparent relish in doing so.
He has quickly emerged as the most critical witness in televised hearings as the panel makes a case that Trump knew his election lies were false but used them to incite an unprecedented coup to try to stay in power.
After a small part at the first prime-time hearing on Thursday, the former attorney general and his recorded testimony were the star turn on Monday, and he'll likely be featured later this week when the panel turns to the question of how Trump tried to pressure Justice Department officials to overturn the election.
In video excerpts from the testimony played at Monday's hearing, Barr painted a graphic picture of a President who had lost the plot – choosing to accept the conspiratorial, evidence-free nonsense about fraud from an allegedly inebriated acolyte like Rudy Giuliani rather than officials who looked into his claims and rejected them.
Like several other former members of the Trump orbit, Barr seemed to be trying to entrench his role for posterity as part of "Team Normal," as ex-campaign manager Bill Stepien put it in his own recorded testimony. Barr told how he had decided to leave his post early after Trump stopped listening to sense in his final days in office.
"I thought, 'Boy, if he really believes this stuff, he has lost contact with – he's become detached from reality if he really believes this stuff,' " he testified.
Watching Barr testify behind closed doors, the committee staff must have believed they hit the jackpot in their attempt to lay the blame for the insurrection squarely in the hands of the former President.
That's because Barr's frequent role as a shill for an unrestrained President now makes him all the more credible as a witness who can deal a damning blow to Trump. It's unclear, of course, whether his testimony will have much political impact, especially after he stood by Trump and his questioning of the election system for so long. Millions of Trump supporters long ago accepted the former President's lies about election fraud, and conservative media and the House GOP have set about discrediting the committee hearings. But a figure as conservative and formerly loyal to Trump as Barr may have at least some resonance among those who liked Trump's policies but abhorred his behavior.
For months after he took office in February 2019, Barr tarnished his image in Washington as a conservative straight shooter who could be trusted to defend Washington institutions against Trump. The clues to his changed persona were in the path to his return to the Justice Department.
He had caught Trump's eye with an unsolicited memo criticizing Mueller's investigation into links between Trump's campaign and Russia in the 2016 election. When Mueller completed his report, Barr took it upon himself to inform Congress that the special counsel determined there was no criminal conspiracy between the Trump team and Russia and that he didn't decide to prosecute the then-President for obstruction of justice. The move shaped the political reception of a not-yet-released report that included multiple hints that Trump had indeed obstructed justice. It also drew a rare public rebuke from Mueller, who complained that Barr's letter did not capture the context, nature and substance of his investigation.
Furious Democrats confronted Barr in that May 2019 hearing over his handling of Mueller's work. Sen. Mazie Hirono of Hawaii, for instance, called on him to resign. "You lied. And now we know," she said. "Being attorney general of the United States is a sacred trust. You have betrayed that trust."
Barr's shielding of the then-President created the impression that he might end up being the kind of loyal factotum that Trump had craved in his first FBI director, James Comey, and first attorney general, Jeff Sessions, both of whom he fired for resisting his attempts to shut down the Mueller probe.
In 2020, the Barr Justice Department was again accused of doing the then-President's dirty work when it intervened to request a lighter sentence for Trump political fixer Roger Stone after he was convicted of lying to Congress and of obstruction and when it dropped charges against Trump's first national security adviser, Michael Flynn.
The former attorney general had earlier appeared to curry favor with the then-President when he said that he thought "spying on a political campaign is a big deal." Barr's comment played into Trump's claim that his campaign had been unfairly targeted by the FBI. Shortly before leaving office, Barr was also behind the appointment of John Durham as special prosecutor to investigate the FBI probe into the Trump 2016 campaign. Durham's team recently lost an attempt to convict a Hillary Clinton campaign lawyer of lying to the bureau.
Even shortly before the 2020 election, Barr had appeared to amplify Trump's warnings that election fraud was a real danger by telling CNN's Wolf Blitzer he was worried that a foreign country could send thousands of fake ballots into the election system.
But there were also signs that working for Trump was driving Barr to distraction. In February 2020, he complained that the then-President's tweets made it "impossible" for him to do his job and harmed the image of the Justice Department.
Despite his previous fealty to the then-President, which raised severe doubts about his independence, Barr emerged as one of the public officials who stood between Trump and a coup that would have shattered US democracy. He went public in an Associated Press interview on December 1, 2020, when he said he had not found substantial evidence of widespread voter fraud, contradicting Trump's increasingly desperate claims and making the President furious.
In his testimony aired Monday, Barr complained about "idiotic" allegations that Dominion voting machines had been tampered with and he slammed the latest conservative conspiracy theories contained in the documentary "2000 Mules," which Trump has again falsely claimed shows evidence of fraud.
Loyalist no more, Barr now find himself as the pivot of the House select committee's investigation, and his graphic depictions of the ex-President's denialism and wild state of mind are damaging Trump's reputation.
Much of Barr's testimony was woven into a case exposing how Trump had known that his election claims were false but pushed them anyway, made by Democratic Rep. Zoe Lofgren in a forensic presentation before the committee on Monday.
But back in May 2019, the California Democrat had had a harsher take on Barr after voting in the House Judiciary Committee to hold him in contempt for failing to comply with a subpoena for a full and unredacted version of the Mueller report.
"He is abdicating his responsibility to the law and inhibiting Congress' ability to perform our constitutional duties. This obstruction must have consequences," Lofgren said at the time.
That she is now using Barr's testimony as Congress yet again tries to hold Trump to account shows just how far Trump's anti-democratic behavior has turned Washington on its head, with some of his onetime loyalists becoming powerful foes.