Property
Brookings' O'Holleran's Steakhouse Closes, Property Sold to Medford Real Estate Company | Wild Rivers Outpost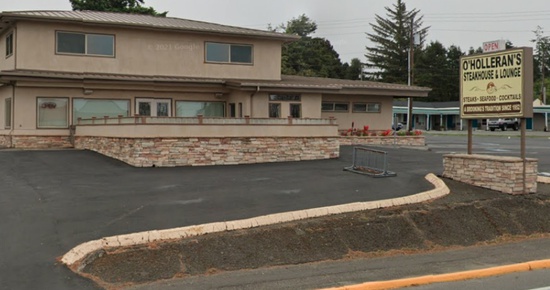 ---
John Ross Ferrara /
Today
@ 4:30 p.m. /
Business,
Oregon
Brookings' O'Holleran's Steakhouse Closes, Property Sold to Medford Real Estate Company
---
O'Holleran's Steakhouse & Lounge, a longtime staple for Brookings surf-'n'-turf, has permanently closed, and the property is in the process of being, according to Curry County records.
The restaurant property, located at 1210 Chetco Ave., was tentatively sold in November of last year to Rubicon Investments — a real estate development and management company based in Medford.
It's unclear when the steakhouse officially shuttered. However, photos taken by O'Holleran's diners stopped appearing on social media in October, shortly before the owners struck a deal. Roadside signage outside the restaurant boasts that it had been in business since 1952.
The Outpost reached out to O'Holleran's Steakhouse owners Rodney and Eileen Minnier to learn why they decided to close the restaurant, but did not receive a response. According to FederalPay.org, Rodney Minnier received an $82,134 PPP loan from the federal government for the business in February of 2021. Records show that the business employed 14 people during the pandemic.
Rubicon Investments Executive Vice President Justin Hurley returned the Outpost's call about the property earlier today. Hurley said that he could not provide more information on the company's plans for the property because the sale is not yet finalized. However, Hurley said that he would be able to discuss the company's plans following the sale.
This isn't the first time that Rubicon Investments has purchased property in Curry County. In December of 2019, the company's subsidiary Gold Beach Holding, LLC bought an 11,200-square-foot building at 94145 5th Pl. in Gold Beach. The company currently leases the property to the Oregon Department of Human Services.
Whatever the company's plans may be, it seems unlikely that the building will reopen as a restaurant. The Curry Coastal Pilot reports that the Minniers are holding a liquidation sale for the restaurant through May 14. This sale includes O'Holleran's Steakhouse tables, chairs, booths, refrigerators, freezers, stoves, deep fryers, dishes and "everything else in the building."
According to Re/Max, the property is estimated to be worth $1,143,820.
---
SHARE →