Property
Colorado Springs developer may sue Fountain to bring property into Colorado Springs | Subscriber-Only Content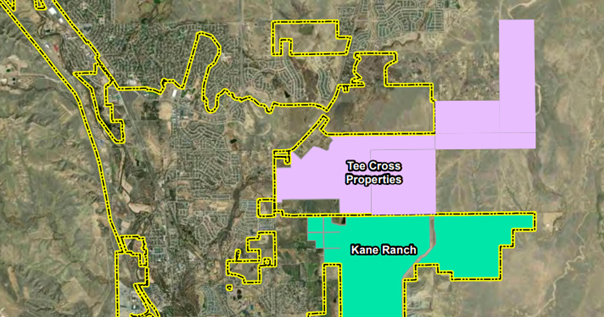 A Colorado Springs developer planning to build a new community on 2,400 acres of land on Fountain's eastern edge may sue the city to leave its jurisdiction and join Colorado Springs, so it can access needed water for homes.
Fountain City Council turned down La Plata Communities' request to take the Kane Ranch out of its boundaries in April after city staff told the council that Fountain could eventually serve the Kane Ranch with water but it would take a build-out of infrastructure, including a new reservoir.  
La Plata Communities President and CEO Doug Quimby called Fountain's plan more of an idea that is likely not operable, because it requires a significant amount of funding, more than $200 million, that would have to be financed. It's a project he estimates could take eight to 10 years, in part because of lengthy permitting. 
"They seem to be in denial about their ability to deliver it in any reasonable time frame," he said. 
The development company, one of the largest in town and the developer of Briargate, is still working to come to a resolution with the city that will not require court action. 
But following the 4-3 vote of the Fountain City Council, it possible La Plata Communities will need to file a lawsuit in district court to leave the Fountain city limits and pursue annexation to Colorado Springs. 
The Kane Ranch could be part of a larger development known as Amara. The northern portion of the Amara development, known as the Tee Cross property, is in the annexation process with Colorado Springs and could go before the Colorado Springs Planning Commission in July. The Colorado Springs City Council would then vote on the project.  
If Kane Ranch is not deannexed from the city of Fountain by the time T-Cross is annexed into Colorado Springs, Quimby said his company will file a lawsuit to leave. The company has a right to ask to leave because the city cannot provide water to the Kane Ranch property as it can to other parts of Fountain, he said. 
Water drives development in the arid West, and Colorado Springs is appealing to developers because it has invested in extensive water supplies from outside the area to serve growth. Utilities is planning to serve nearly 54% more people — an increase from 470,000 to 723,000 — in the next 50 years
However, Fountain's City Council members seemed confident in their community's ability to serve the many thousands of homes planned for the Kane Ranch site. 
"You would never run out of water in your build-out," Councilman Richard Applegate told Quimby. 
One temporary solution is a pipeline that would bring treated water from Colorado Springs Utilities into Fountain from close to Marksheffel and Peaceful Valley roads or Marksheffel and Mesa Ridge Parkway, Fountain Utilities Director Dan Blankenship said. 
"We see that as potentially the quickest avenue to expanding our treated water capacity," he said. 
The city is also working on designing a new reservoir in former gravel pits that are in the reclamation process and key to serving Kane Ranch. 
The financing of all the needed water projects is the "toughest nut to crack" and the city is considering payment in advance from developers or special improvement districts, he said. 
While water is the central point of contention for the city of Fountain and the Kane Ranch property, city councilmembers raised other concerns about traffic and public safety. 
The response times for Colorado Springs police to respond to the Kane Ranch area could be long, and the regional road network could get more congested by new residents passing through Fountain.  
Quimby said his company expects to improve adjacent roadways such as Marksheffel, Link and Squirrel Creek roads.
He also expects to dedicate right of way for an extension of Powers Boulevard to the south that would connect to Interstate 25 near the Pikes Peak International Raceway. 
Public safety services through the city of Colorado Springs will be negotiated through the annexation agreements.