Property
Son asks for help rebuilding father's property lost to Williams Lake Fire | News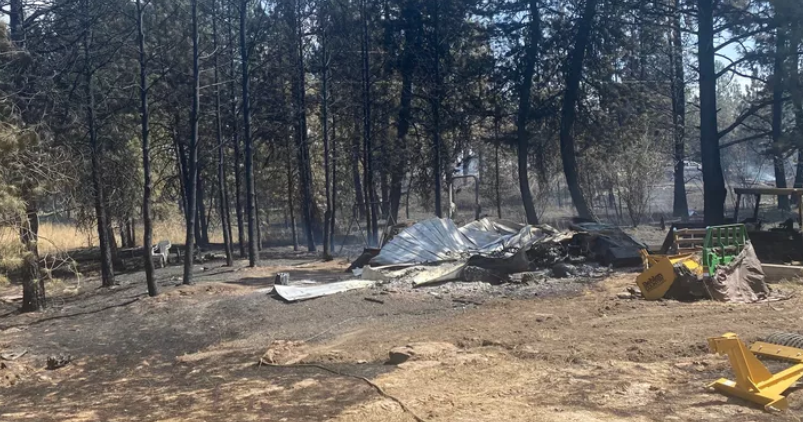 CHENEY, Wash. – The catch and fast spread of the Williams Lake Fire near Cheney took many in the area by surprise. For others still, it took far more. 
What began as a 100 acre brush fire on Wednesday afternoon quickly necessitated Level 3 evacuations. By that night, it had expanded to over 1,600 acres, with residents unable to return home and wondering if there would be a building to return to.
In spite of the worry and hardships, the community has come together in a multitude of ways, from watering the plants of evacuated neighbors to keep stray sparks from catching, to supporting local farmers who lost everything to the flames. 
As of Saturday morning, the Department of Natural Resources stated the Williams Lake Fire was 10% contained and covered approximately 1860 acres. 300 firefighters continued to work on suppression and mop up, hoping to use the fair weather to make solid progress against the blaze.
While progress has been made and evacuation warnings lowered to Level 2, it is good news for residents. However, some are now having to sort through what was lost and how to restore it. Such is the case with Chance White's father, Jody. 
Chance says his dad has been spending time in Cheney since he was a kid, enjoying the area's fishing and hunting and the escape from his city life. With his love of the area, Jody naturally bought 10 acres for him and his family to enjoy, with hopes of passing it down through the family. 
"He loves spending time at his property with his grandchildren, kids, family and friends," explains Chance.
Unfortunately, his property was hit by the fire. Because of evacuations, he's been unable to inventory all that was lost, but photos show smoldering trees, a destroyed shed, and the charred frame of a four-wheeler. It was a heart-breaking strike of misfortune on someone utterly undeserving. 
"Anybody that knows Jody knows that he is selfless person and would help anybody do anything!" his son attests.
So Chance has taken it upon himself to try and help his father rebuild, starting a GoFundMe and hoping the community Jody loves so much will share a little help in return. He says the money raised will go towards rebuilding Jody's storage shed, restocking the tools kept inside, replacing the four-wheelers and two tractors that were lost, as well as restoring power and water. 
"It will be a long road to recovery and rebuilding what was lost, but any little bit will help out my father, who would do the same for anyone else!"
If you'd like to pitch in and help Chance and his father out, you can visit the GoFundMe page here!
"Please help Jody out," asks Chance, "and thank you to everyone who does."