Property
What's driving Salt Lake City's proposed property tax, police budget increases?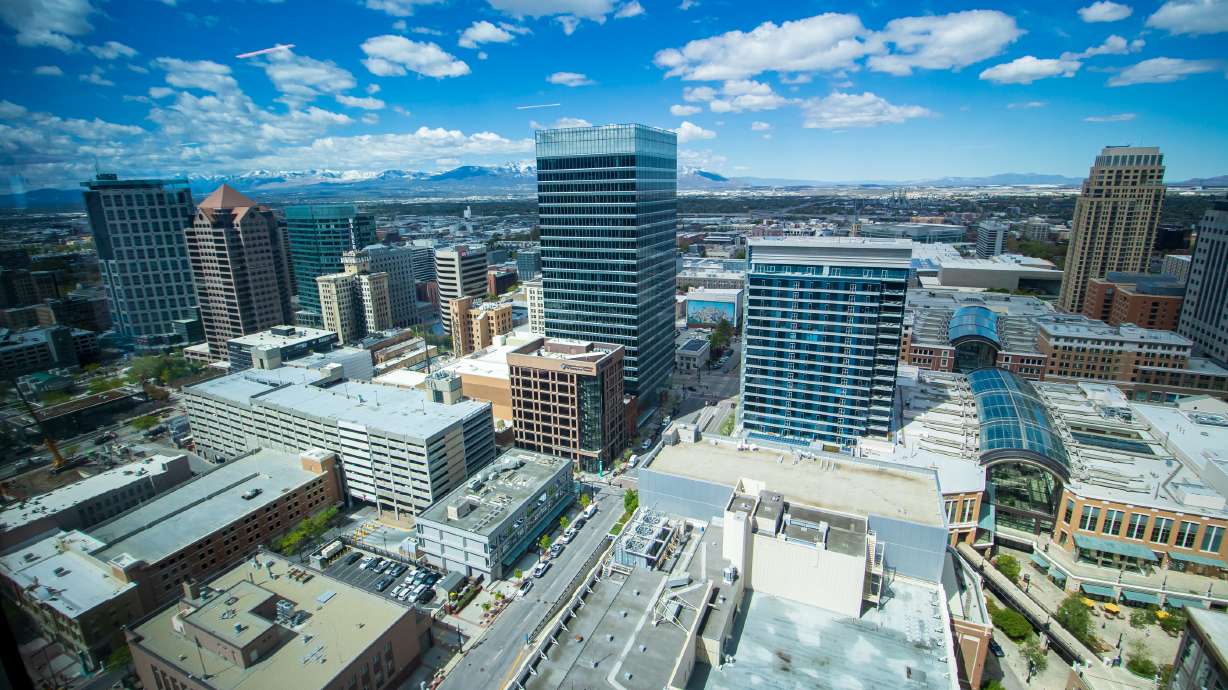 A view of downtown Salt Lake City from the 23rd floor of the 95 State building. City leaders are currently finalizing the 2022-23 fiscal year budget. (Carter Williams, KSL.com)
Estimated read time: 8-9 minutes
ALT LAKE CITY — Utah's capital city is closing in on what may be its largest budget yet.
Salt Lake City Council members are still sifting through public comments as they fine-tune the $424 million budget that Salt Lake City Mayor Erin Mendenhall unveiled last month. But as they do that, a few of its members held an event Wednesday to answer questions residents may have about the proposed budget, including a proposed property tax increase and a pair of possible new city bonds.
Here are four of the biggest takeaways from their "Ask Me Anything" session.
What's driving proposed tax and service increases?
The proposed budget includes a 4.9% property tax increase. Mendenhall argued in her message to the city council last month that it helps the city avoid having larger tax increases in the future.
Salt Lake City Council Chairman Dan Dugan said that since sales tax is "volatile" — especially at times spending is down, and that's possible with record inflation — the city also relies on property tax to ensure it can afford the resources it provides residents.
Most of the city's budget will go to its employees. Compensation, with a total cost of $258.1 million, accounts for about 60% of the entire proposed budget. It would be an increase of 13% from last year, or about $29 million altogether if it is approved.
It includes a 4.5% general pay increase for the city's non-union employees while raising the government minimum wage to $15.10 per hour. Some of it is to keep the city competitive now that Utah's unemployment rate has fallen below 2% for the first time. It also helps alleviate job turnover and the ongoing impacts of inflation.
"If we want to keep good workers and good employees, providing the services that we want to see across the city, we need to pay them accordingly," Dugan said. "I think these employees are doing an incredible job right now and we are, in some areas, very understaffed. Some of these projects won't get off the ground without additional employees and a pay raise for the current employees."
Salt Lake City Councilwoman Amy Fowler reminded residents the tax increase is still only a proposal. The council is currently looking into federal funds or other ways it spends money to see if there is anything that can be done to reduce the proposed increases.
It's not just tax. There is a 15% increase in sewer, water, stormwater and garbage collection services, which were scheduled a few years ago to happen this year, Salt Lake City Councilman Darin Mano said. City leaders say these fee increases help pay for desperately needed upgrades to infrastructure across the city.
"Salt Lake City is older than the state of Utah, and with that we have over 100-year-old pipes pushing water in our city and collecting sewage," he said. "Just a few weeks ago we had a pipe break, open up a sinkhole on the west side, and it swallowed up an entire car. … So we have severe infrastructure needs that we need to improve and catch up on."
It also helps pay for the massive $800 million price tag to replace the city's water reclamation plant in Rose Park, a project that is scheduled to be completed in 2025. The city needs a new plant to meet new federal standards.
The dueling opinions on police reform
The proposed police budget probably could have taken up the whole meeting had there not been a moderator to change the subject. The city is seeking to spend $104 million on its police department in the coming fiscal year, which would be a 25% increase from the previous budget.
The funds would go toward raises from the aforementioned compensation changes but also new hires, primarily a new team of social workers, mental health experts and a civilian response team to change the complexion of the department following calls for police reform over the past few years.
"(They're) all methods to allow us to diversify our response, and take some of the low priority calls from the police down to a different source, so we can improve our calls for services and our times there — and also reduce our crime," Dugan said. "That takes time and energy to continue, but we have to make sure we're paying for the services that our city demands. And one of those demands was public safety."
This increase not only garnered questions Wednesday but in previous public feedback sessions, as well.
"Did the council talk to any people who are more in favor of defunding or abolishing the police when it comes to the budget? It's one thing to consult pro-police, but the other side as well?" asked resident Chris Butler.
Dugan said proposed changes were made in consultation with the Salt Lake City Racial Equity In Policing Commission, which was formed in 2020 following protests against racial injustice after the death of George Floyd.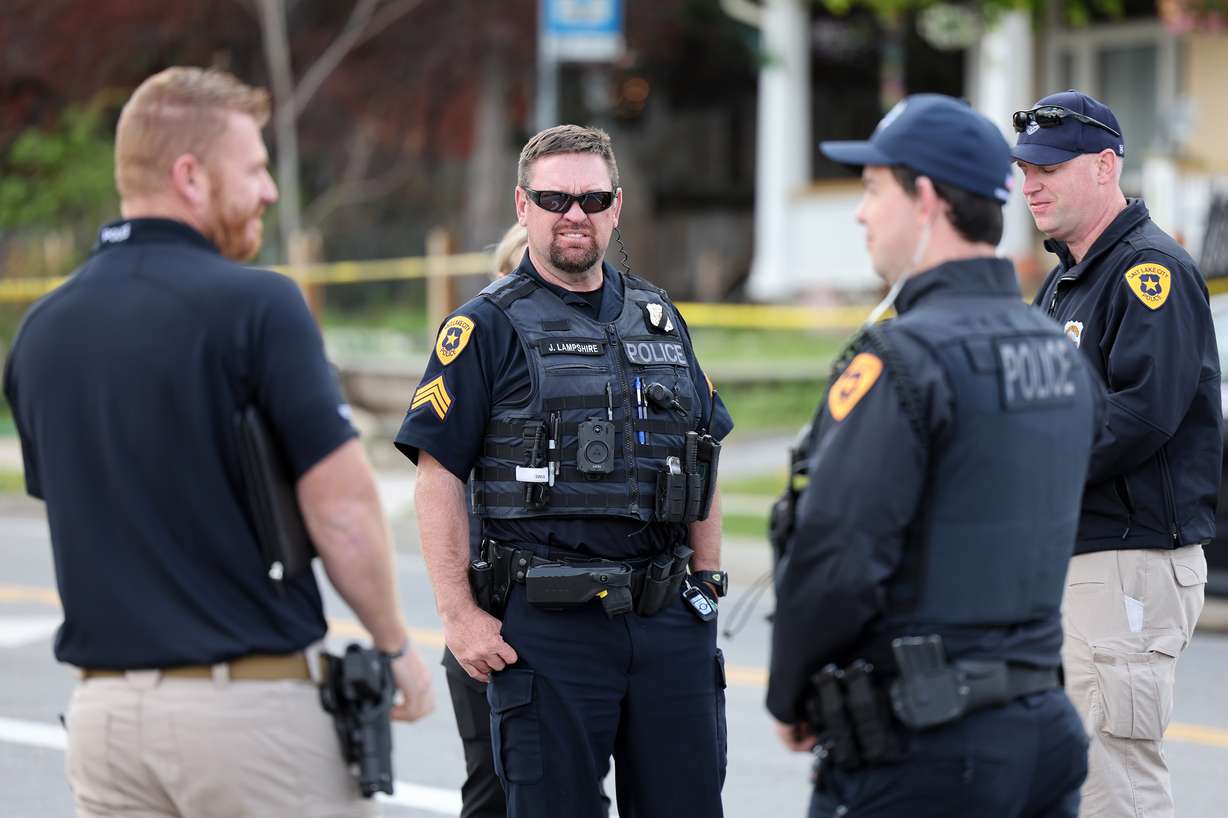 Meanwhile, another resident called into Wednesday's meeting to share a concern about sending civilian officers to certain crimes, such as break-ins or unwanted people on private property.
Mano clarified police will still respond to active threats, while the civilian officers will respond to non-emergent calls like car break-ins or thefts after the fact. Fowler added that one city audit found a majority of calls that Salt Lake City police respond to don't really require a uniformed officer to be present, which is what sparked the alternative response models.
Golf courses and the environment
One of the questions centered on the city's golf course budget, which is projected to receive $10.2 million with a $4.9 million capital budget in the upcoming fiscal year. It's a 13% increase in funds from the expiring fiscal year.
The council was asked if the city would consider replacing its courses with nature preserves.
Fowler, calling herself the council's resident golfer, acknowledged that the city's golf courses aren't self-sustaining but contended that the same is true of all the city's parks. She defended golf courses because of the "public benefits" they provide — an activity many people enjoy even if not everyone uses a course.
If it became a park, she argues the city may not have the resources to maintain it. It would also leave the possibility for the land to end up as new development that takes away from current open space.
On a somewhat similar note, members of the council were asked how the environment affects the city budget. Dugan said one angle is public transportation, including funding for about $1 million for Hive Pass usage. The city is also looking at more public transportation projects to increase efficiency.
While it's not in the budget at the moment, Dugan added that the city is in discussion with state leaders about another "Free Fare February," which may be extended in the winter when air quality is often the worst. Other projects aim at reducing the need for cars in the city, which are associated with about half of the air quality issues along the Wasatch Front.
Construction is also currently underway on an 80-megawatt solar farm in Tooele County, which is expected to help get Salt Lake City closer to its goal of 100% net renewable energy by 2030 when it goes online next year.
New fire stations are also being built, with the goal of reaching LEED Certification in green building standards, Fowler added.
What possible bonds would cover
One of the ideas Mendenhall proposed last month is a new $80 million general obligation bond to help cover infrastructure needs associated with vast increases in the city's parks. Visitation to the parks is up by over 40%.
Another is a sales tax bond. Essentially, both bonds cover large-scale projects that the budget otherwise wouldn't be able to fund. For example, the general obligation bond is more than double the proposed public lands budget.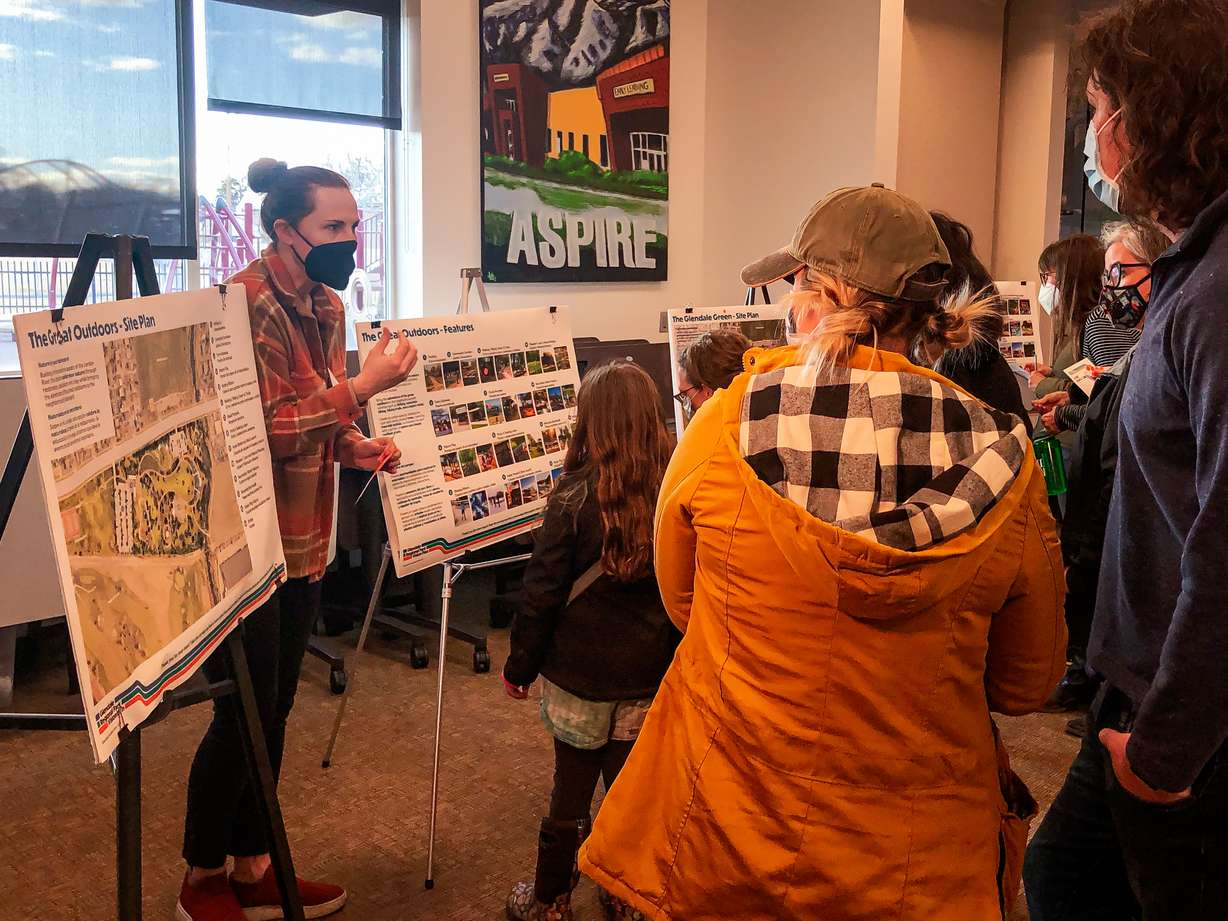 With about $27 million total, a large chunk of the bond would cover the creation of the new Glendale Regional Park. The design of the park is currently being finalized but only has about $3.2 million in funds at the moment, which is nowhere near enough to cover the cost of turning it into the park residents want.
"That's, by far and large, the biggest individual project of any of this list of projects," Mano said.
The bond itself would have to be approved by voters in November if the city council agrees with Mendenhall. The median-priced homeowner would end up with about a $31 increase in property tax, beginning in 2024, if voters approve the idea as proposed.
The sales tax bond would be paid back by future sales tax revenue. This new bond would fund improvements to the historic Warm Springs Plunge and Fisher Mansion, as well as the Salt Lake City Cemetery if approved by city leaders.
What's on deck
The city council has one last public hearing on budget matters scheduled for Tuesday before they finalize the city budget, which must be done by the end of the month.
The city's new fiscal year begins on July 1.
×
Related stories
More stories you may be interested in