Stocks
As Cannabis Stocks Continue To Tank, Look At Sales Growth For Turnaround Sign Investors in the North American cannabis market have to search for the positive signs. Are there any indicators of a turnaround? Anywhere? Somewhere?
One glimmer of positivity is sales growth.
So, let's take a look at one marijuana stock that has registered the highest year-over-year growth in sales: OrganiGram Holdings (NASDAQ:) (TSX:).
This Canadian-based marijuana grower, founded in 2013, had a 118% increase in sales growth, according to its latest , making it the leader in this category among pot stocks trading on the .
Shares of the company, however, have not fared as well. The stock closed yesterday at US$1.080 in New York, down more than 5.5% on the day, and C$1.35 in Toronto, down about 3.5%. Year-to-date in 2022, the stock is down about 40%, and just over 63.5% in the last year.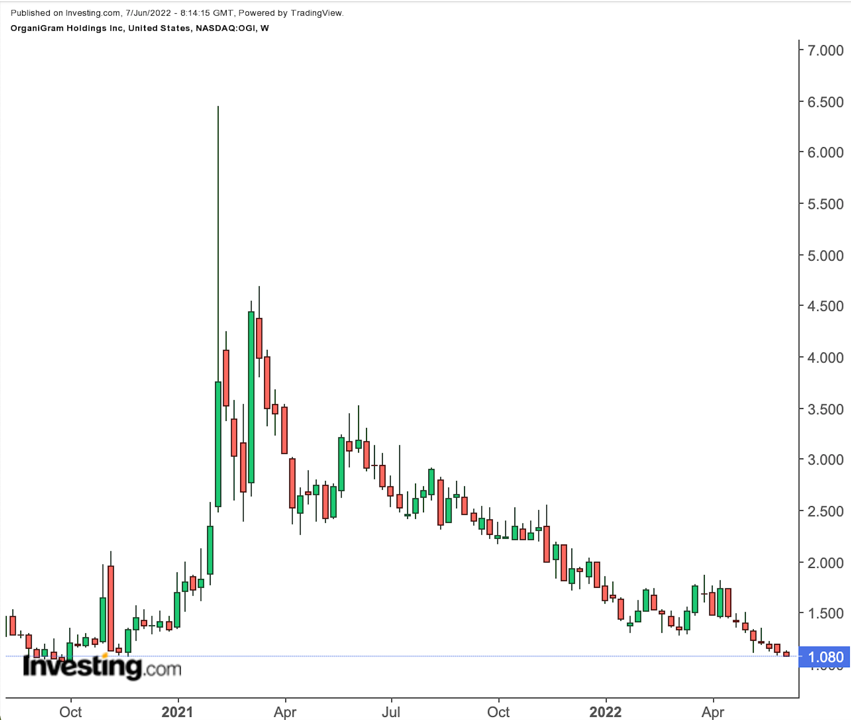 Source: Investing.com
Rising sales figures are one measure of a grower's ability to increase revenue organically. But how improved sales figures are contributing to profitability is a key metric to watch as well.
The company's net income has improved, but it has yet to reach profitability. Its net revenue last quarter stood at C$4.05 million (USD$3.6M).
In OrganiGram's case, one of the contributors to its increased sales is a deal it struck in June 2020 that gave it access to the international market.
The marijuana grower, which began as a medical cannabis producer, today grows for both the medical and recreational markets. Two years ago, it inked a deal to supply dried cannabis flower to largest medical cannabis company in Israel.
Canopy Hits 52-Week Low
The bad news keeps chipping away at Canopy Growth shares (NASDAQ:) (TSX:).
Earlier this week, the Canadian-based cannabis grower was one of only two stocks on the to hit a 52-week low.
The marijuana company has lost 11.8% in the past week and almost 51% so far this year.
Yesterday, the stock closed at US$4.09 on NASDAQ, down 5.3% on the day, and C$5.13 on the TSX Composite, down 5.35% on the day.
The stock has now lost more than 82% in the last 12 months. 
Pot Sales Up in Canada
Here is a quick stat for you, from the land of legalized pot.
A total of C$10.54 billion was generated in cannabis sales in the first quarter of 2022 on an annualized basis, according to Statistics Canada.
The figure represents a 7.9% increase compared with the previous year, the data shows.