Stocks
Taking 'Stocks': Musselman graduate leads streaking Potomac State | Journal-news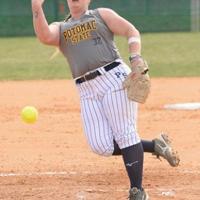 The Potomac State softball team has been taking "Stocks" of victory.
The Catamounts have won 32 straight games heading into next weekend's Region XX tournament.
Their 38-2 record has the Catamounts as the top seed for the regional tournament and with a bye for the event taking place at Anne Arundel Community College in Arnold, Maryland. The winner will advance to the NJCAA World Series taking place May 23-27 in Oxford, Alabama.
Leading Potomac State is sophomore Brianne Stocks, a graduate of Musselman and one of two Berkeley Countians helping Potomac State to succeed on the diamond.
Stocks has started 20 games in the circle for the Catamounts and has 18 wins and no losses.
Stocks has struck out 137 and boasts an earned-run average of 1.55. On offense, Stocks is batting .370, with four home runs and 30 runs batted in.
Stocks is majoring in business.
Freshman Emma Turner, a psychology major who graduated from Hedgesville, is the team's key utility player.
"Emma's best attribute is her versatility in the field as she is capable of playing all the infield and outfield positions," Potomac State assistant coach Richard Thompson said.
Turner owns a .308 batting average. She has drawn 15 walks and stolen seven bases.
It's been quite a season for the Catamounts, who lost their season opener to Cleveland County Community College of North Carolina. Potomac State won its next six games before falling 6-4 in nine innings to Patrick and Henry Community College.
Since that March 14 loss in Myrtle Beach, South Carolina, Potomac State has won 32 straight, many of them by lopsided margins — including a 32-0 victory over Montgomery College.
The Catamounts average 10.8 runs per game, are batting .393 as team and have a .662 slugging percentage.
Ten of the 16 players on the roster hail from West Virginia.